A Perfect Distraction by Anna Sugden: Jake "Bad Boy" Badoletti is ready to return to his career in the NHL after an accident injured him and took the life of his friend, Adam. He's vowed to be a better man – on and off the ice. A man that Adam would be proud of instead of the good-time charlie he'd been before. Being traded to a team in New Jersey was the first step. He'd be close to his family and what felt like home. Secondly, he hired "Making Your Move" to get him settled in – with a new home as well as a new homebody image.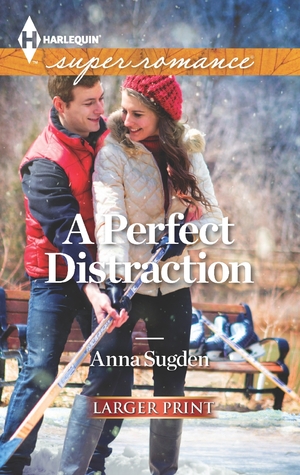 Maggie Goodman was still gun-shy after the very public, very violent breakup with her ex-husband in London. Taking her daughter and relocating to the U.S. was her only option. Not only would it get her and Emily away from Lee, she'd be able to help her sister Tracy with her business. She's the owner of "Making Your Move", and she arrived just in time to jump in while Tracy underwent emergency surgery for a burst appendix. Talk about jumping from the frying pan into the fire…
Being back around athletes wasn't Maggie's idea of a good time. After all, she knew first hand what kind of men played professional sports, and she needed to stay away from that environment at all costs. However, she couldn't say no to helping Tracy – even if that meant getting up close and personal to a guy whose nickname is "Bad Boy".
Neither of them expected there to be any attraction between them. Maggie hated sportsmen, and while in her toned-down new clothes Maggie was certainly not his type. But sparks flew nonetheless. Jake didn't need this. He'd vowed to win the cup in Adam's name and having a distraction like Maggie wouldn't do. Learning she had a daughter was the capper. But he couldn't stay away.
As Maggie gets her confidence back and learns to trust again, Jake realizes that he can have a career and be close to his family at the same time. What he thinks are merely distractions may just be the solution to all of his problems. Now if he can just keep himself out of the tabloids, and not drag Maggie back down that path again – he might be on to something.
A Perfect Distraction was entertaining, but I finished it feeling a little unsettled. Very serious issues were tackled, and one of them in particular was left unresolved. It solved Maggie's big problem, but I honestly don't think she could've left another woman in peril like she had been. Also, every so often, one of the characters would say something that took me out of the book. Something that was simply out of character for them. It's really good for a debut, so I'll be watching Ms. Sugden for future releases.
Book Info:

Expected publication: September 3rd 2013 by Harlequin
A face-off—head vs. heart
For Jake Badoletti, this year is all about his career. He has a rare second chance to make the most of being a pro hockey player, so no parties, no scandals. Too bad he's met a woman who could sideline those plans. Maggie Goodman is not his usual type—right down to being a single mom. Still, the sizzling connection with this gorgeous brunette can't be ignored.
With a little juggling and a lot of focus, Jake manages to have the game and Maggie. Then his performance on the ice suffers and a scandal erupts. Now he can't afford the distraction of Maggie…even if she is perfect for him.