Decadence (Spice Rack) by Karen Stivali, is more than just another well-presented erotic romance, it is an honest example of what a loving couple can do to spice up their relationship. Main characters Jessica and Eric Carlson have been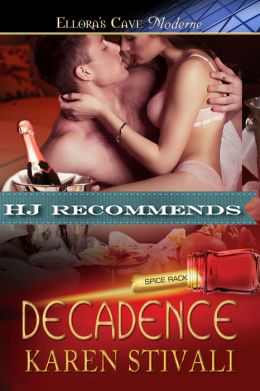 married for eight years and with three kids, time as a couple is hard to come by. Between moving into a new home and starting a new business, it is virtually impossible for Jessica and Eric to rekindle the spark that pulled them together years ago. They love each other very much and still find each other highly desirable.
Feeling the pain of separation and loneliness, Eric arranges a special "Mother's Day" for Jessica. Upon returning home from dropping the kids off at school, she finds Eric half dressed cooking waffles. Truly surprised, because he left for work earlier without giving her a kiss good-bye, which he ALWAYS does. He has big plans for them today, a complete day of love, passion and mindless sex, courtesy of the Spice Rack, a new product full of jarred sensual ideas. The day progresses wonderfully, with Jessica and Eric completely engulfed intimately with each other. Unfortunately, Eric is called into work to handle an emergency, which enables Jessica to attend her final class in seductive dancing.
Eric has always wondered about Jessica's class. She has never provided any details, with the exception that it meets twice a week. Well, he will have his answers this evening, because Jessica has planned a night of seduction that he will never forget. The kids are at a sleepover, so all she has to do is morph into the seductress she has trained to be and wait for Eric to walk through the front door.
This is a hot, well-written erotic novella. Don't pass it up!
Book Info

Publisher: Ellora's Cave Publishing Inc. (July 5, 2013)
A book in the Spice Rack series.
In eight years of marriage, Eric Carlson has never forgotten to kiss his wife Jessica goodbye—until this morning. As Jessica runs her errands, all she can think about is the missing kiss.
When Eric calls to tell her he thinks he left the toaster oven on, she rushes home, annoyed and afraid their house may be burning down. Instead of smoke and flames she finds Eric, looking hot and sexy as hell as he prepares fresh waffles.
Eric knows he and Jessica have been drifting apart. He's bought the hot new product everyone's talking about—the Spice Rack, guaranteed to spice up your love life. The jar he opens advises them to "Spend a decadent day indulging all your senses." With the whole day ahead of them, a fridge full of tempting treats and the house to themselves for a change, that's exactly what Eric intends to do—in the kitchen, on the washing machine, wherever the mood strikes. And Jessica's got a super-steamy surprise for him too.