Cowboy Justice by Melissa Cutler, is the second book about the Sorentino sisters, who are doing much better with their B&B and making their way to the success and financial freedom they have been aiming for. Only there are people in the town of Catcher Creek who are not happy with their business, to the point that there have been several (quite deadly) attempts to make them aware of the fact.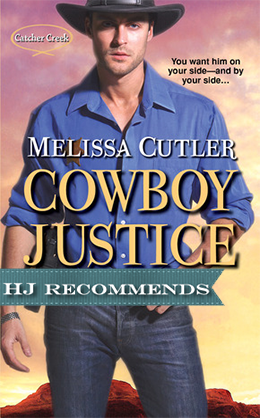 Cowboy Justice is about Rachel, she stayed home to look after her parents and the ones that has been holding everything together. She is responsible and strong, and makes sure to take care and protect what is hers.
Vaughn Cooper is the town's Sheriff, and he is very straight laced when it comes to the law. After being raised in a town where the law was bend to benefit those that were supposed to uphold it, it can only be understood why he is the way he is. Which is why a year before when he was investigating the death of Rachel's father, no matter how much he and Rachel wanted to be together, after one night he said that they had to keep it a secret since he was still working on the case.
Now Rachel wants to keep her distance from Vaughn, for he is the only one that can see the vulnerability that no one else does and cut right to it. Also she has not been able to forgive or stop blaming herself for what happened on the one night that she was with him and not home with her mother. But when she needs help he if the first person she calls, even if their attraction is an inconvenience to his career.
Things are not going to be easy for Rachel and Vaughn, for it seems they have many things against them, including her extreme independence and his career. But what the heart truly wants and what feels right is not easily denied, especially when danger comes knocking on her door.
There is a great suspense and back-story about Rachel and Vaughn that will keep you hooked and wondering what comes next. But the romance will not be lacking, for the HOT scenes may not be many but they are sizzling. The chemistry is great, and the adventure and suspense will definitely keep you hooked.
If you like a good intriguing, suspenseful romance filled with danger and passion that will keep you hooked, don't miss Cowboy Justice by Melissa Cutler.
Book Info:

HJ Recommends
October 1st 2013 by Zebra
Transforming their parents' rundown ranch in Catcher Creek, New Mexico, into a tourist destination is the toughest challenge the three Sorentino sisters ever faced. But now one of them has another fight on her hands—to keep from falling for the sexy town sheriff—again…
Rachel Sorentino has spent her whole life protecting her siblings from trouble—only to run headlong into it herself. Her first regret about shooting at the vandals targeting her family is that her aim wasn't better. Her second is that when bullets started flying, it was Sheriff Vaughn Cooper's number she dialed. Vaughn is the mistake she keeps on making, a cowboy lawman who cuts through Rachel's surface bravado to the vulnerability no one else sees. And no matter how inconvenient their attraction—for his career, her tangled case, and their already battered hearts—there's no denying what feels so irresistibly right…