In White Christmas by Ros Baxter, Explorer Tabysha survived the crash landing on Tyver only to have vampiric ice creatures then begin stalking her. She manages to make contact with Command while she hides out in an ice cave for safety. Tabi chooses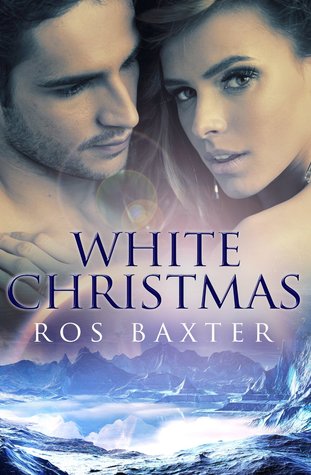 to ignore the order she receives to leave a fallen soldier behind and goes to his rescue anyway. Unfortunately the pilot is the one man she never wanted to see again. Her ex-boyfriend Asha.
'The arrogance of this man. He had always been this way. So freakin' sure of himself. So long-legged and honey-voiced and bad, bad, bad.'
Tabi allows Asha to accompany her back to the ice cave where she slowly learns more about his abrupt departure from her life ten years ago. As she wonders how different her life would have been had she known the truth, the ice vampires threaten them yet again. The only option to scare them off is to make use of Tabi's research, which means things will go from ice cold to smoldering hot in no time.
She took a breath. "You need to take your clothes off."
Her words broke the spell and Asha's eyes snapped open. "If this is some dying wish thing, you could maybe romance a guy a little first."
White Christmas is a sci-fi romance novella by Ros Baxter that is based around a reunion, which is one of my favorite tropes, for our main character Tabi and her ex Asha.
This short story was a nice change of pace. I don't venture into sci-fi very often, but this is exactly the kind of writing style that makes it worthwhile. There was a suspense element with the ice vampires and wondering if the two main characters would be rescued. The romance was very intense and laced with a little bit of lighthearted banter. And even though we didn't get the full backstory on Asha and Tabi, it was evident in their dialogue that they cared deeply for each other.
White Christmas is a story with a sense of humor, sci-fi action and a smokin' hot love scene. Definitely check this out if you're in the mood for a quick but entertaining romp.
Book Info:

Published December 1st 2013 by Escape Publishing – Harlequin Enterprises, Australia Pty Ltd
What if your only chance at survival was to seduce the man who broke your heart?
Seventeen years after the Apocalypse, Admiral-class Explorer Tabysha is caught up in a firefight and shot down over Tyver, where ice vampires hunt human warmth. Seeking shelter in an ice cave, she is instructed to stay put and await rescue. But after another ship crash-lands, and the Hunter Gatherers stalk its wounded pilot, Tabi breaks protocol.
When it turns out the survivor is the man who stole her heart then skipped out on her ten years before, it seems to Tabi that no good deed goes unpunished, and things can't get any worse. But she's so wrong.
As the Hunters pick up the escalating heat signature of the former lovers, Tabi has to tell Asha that there is only one way to repel the creatures stalking them.
And it involves picking up where they left off ten years before.