Ok…so Crash by Nicole Williams was nothing and everything I expected it to be. Jude and Lucy were good together, but not great in my opinion. I also found the storyline to be overly dramatic, which may be a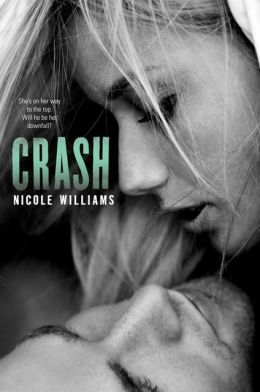 positive for some, but not for me in this instance. Though this book had faults I did rather enjoy Jude's character, dark, mysterious and with a troubled past. Which, these aspects made me love him. I'm a sucker for the bad boy.
But other than that I really did not enjoy "Crash" by Nicole Williams. The parental situation was very dark and messed up and I prefer to have at least one family that has some happy elements. But both Jude and Lucy's families were either mean or checked out of all situations involving these high schoolers.
If you are a fan of the New Adult genre I probably wouldn't recommend this book to you. But if you are a YA fan with a need for angst than "Crash" is most definitely for you! As for me, I wouldn't continue with this series.
Book Info
Publisher: HarperCollins . Release date: December 18, 2012 | Series: Crash
In this first book in the New York Times bestselling Crash trilogy, the world is introduced to this generation's Romeo and Juliet: Jude Ryder and Lucy Larson—Explosive. Sizzling. Tragic.
A steamy summer encounter with bad boy Jude means trouble for Lucy. Her sights are set on becoming a ballerina, and she won't let anything get in her way . . . except Jude.
He's got a rap sheet, dangerous mood swings, and a name that's been sighed, shouted, and cursed by who knows how many girls.
Jude's a cancer, the kind of guy who's fated to ruin the lives of girls like Lucy—and he tells her so.
But as rumors run rampant and reputations are destroyed, Lucy's not listening to Jude's warning. Is tragedy waiting in the wings? This racy romance is hot, hot, hot!