Craving Her Soldier's Touch by Wendy S Marcus is book#1 of Piermont sisters, this is a story of a war veteran hero and a Society socialite.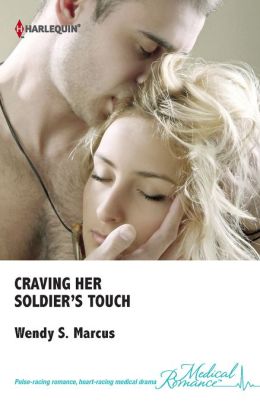 Right from the beginning this books starts with action and drama; there was never a dull moment as I read this book. Jaci was tough, fearless and funny. The chemistry between Jaci and her war veteran hero Ian was off that charts and their relationship wild and passionate.
If I had to pick on anything it would be on Ian's perception of his obligations and responsibilties, it just seemed a tad too far fetched and detached from reality. Like this scene below near to the end when he brings home a widow and a baby to the Condo he is currently sharing with his friend and is then surprised that his friend threw a fit about it!
After the fit Justin had thrown, Ian could just imagine how Jaci'd react.

He didn't dare look at her. "I didn't know what else to do," he explained. "She looks terrible, so pale and thin. I mean she was thin before but now she's sickly thin. The house was a mess. There was hardly any food in the refrigerator. The baby has a terrible diaper rash." At least it looked terrible to him. "She has no family. I couldn't leave her there and I didn't want to stay. So I packed up her condo, hitched a rental trailer to the back of my S.U.V., and brought her home with me." And he had no plan past that.
Now I should mention overall I did enjoy this book. Wendy has a wonderfully fresh voice and she wasn't afraid to step outside the box. In both the Piermont sisters books Wendy deals with some pretty tough social issues such as PTSD, domestic violence and elective mastectomy and for that she needs to be commended.
The writing while funny and flirty at times was also deeply moving and emotional at others which made for quite a contrast and provided a range of emotional depth.
I Can't wait for the next installments from this author!
Rating:
Book Info: Publisher: Harlequin Medical Romances (February 1, 2013)
She swore she'd never give in to him… Feisty nurse Jaci Piermont's heart was crushed when Staff Sergeant Ian Eddelton walked away from their passionate night together. But letting him know? Not an option! This reluctant socialite would much rather channel her energies into helping  the vulnerable women she works with.
Now Ian's back–as gorgeous as ever, but with dark secrets in his eyes. Her head might be screaming Keep away, but Jaci's rebellious heart has a very different idea…!
Beyond the Spotlight…Book 1 of 2.