In Crossing the Line by Megan Hart, Caite Fox has been given the chance to get up-close-and-personal with her boss Jamison Wolfe, co-owner of Wolfe and Baron media managing firm. They haven't spoken more than a few words in the eight months she's worked there as she deals directly with his co-partner Elise Baron, but Caite is determined to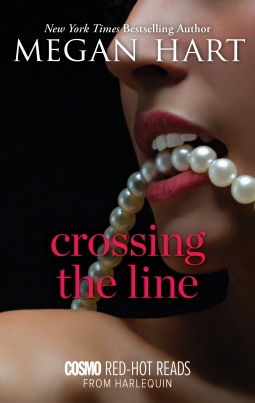 grab Jamison's attention and not let go. And not only with her savvy business skills.
"Like it or not, Ms. Fox, there's a reason why the name of this company is Wolfe and Baron, and it's because I'm the one in charge here. Me. Not you. So you should know your place."
Caite understands that Jamison has to have control in the business world and is used to getting exactly what he wants. But she's willing to bet that behind closed doors he would love to relinquish that control for just a while. As Caite pushes Jamison, showing him how great their chemistry is and how she can show him a world he's never dreamed of, Jamison has to decide if he can put his trust in her hands. Or if he'll be able to keep from falling for Caite.
"You should always be naked in my presence," Caite said.
"That would be awkward for our clients," Jamison began as he turned to look at her, and just like that, whatever this had become flared again between them. Thick and heavy with promise, electric.
Crossing the Line is a new super steamy novella from Cosmo Red Hot Reads with a twist on the Dominance theme.
Author Megan Hart has great writing chops, especially with erotic romance, in my opinion. And the love scenes here were explicit, extremely hot, and quite honestly…surprising. When I read the synopsis of this short story I didn't realize it was about Dominance or that the Dom would be the female lead character. It made for a very interesting read, seeing the situation from both Caite and Jamison's points of view while they figured out these new roles they found themselves in.
For some reason I had a little bit of a difficult time connecting with these two characters right away. I'm not sure if it was seeing a powerful businessman who was controlling in his professional life become submissive to Caite in his personal life? It didn't seem realistic to me. But as the story continued, I became more comfortable with the idea. I was pretty shocked and then amused with how bold Caite was with Jamison in the workplace, so that gave us some intense, enjoyable dialogue when they first began to work closely together.
Overall, Crossing the Line would be good for erotic romance fans who don't mind some Dom/sub tendencies played out, or who would like to see things from a totally different point of view.
Book Info:

Published June 1st 2014 by Cosmo Red Hot Reads from Harlequin
5 Rules for Sexy Play in the Workplace!
1. Know the company policy;—You just got an opportunity to finally snag that sweet corner office. The last thing you need is a wicked distraction….
2. Don't date your boss–Sure, Jamison Wolfe has a smile that could send a woman into instant orgasmic joy. But more important, he's your strict, control-freakish boss. Your hot, sexy, control-freakish boss.
3. Keep PDA out of the office–Okay, so you slipped up. Once. It was just the temptation of having Jamison at your complete naked mercy.
4. Prepare for the worst–This can't go anywhere. You know it, he knows it. So why stop now?
5. Be discreet–Even when it gets more intense. Even when you push every limit you both possess…