In Straddling the Line (Play by Play #8) by Jaci Burton, Haven is still struggling with grief a year after her father's death. She is a sports journalist on the verge of quitting a promising career to go back home and be with her mother. Haven's mother knows she is not coping and seeks help from sports super star Trevor.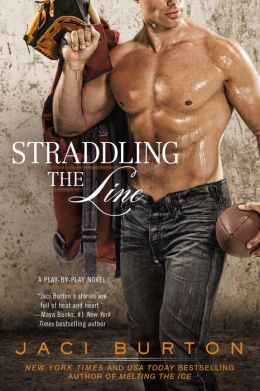 Haven's father was a mentor and father figure for Trevor, and Trevor would do anything for his family. So when Haven's mother asks him for help, he doesn't hesitate to find a way to help. Trevor remembers Haven from college days, but doesn't know her as the woman she has become. When he picks her to write an in depth article about him, something he hopes will help her remember her love of her career, he is unprepared for the woman she is now.
Haven always had an attraction to Trevor, and the years have definitely been good to him! Trevor and Haven have to spend a lot of time together, and the chemistry between them while at first is forbidden, is soon impossible to resist. The sex is steamy, and they both realize they know each other on the surface, but they don't really know each other. A no strings affair should be good for them both, right? As they spend more time together and discover how well they fit together, they both might end up with a broken heart. Trevor fears he can never be good enough for Haven. He has secrets and a past he is hiding, one he is determined not to share. Haven is slowly losing her heart to Trevor, even if he doesn't want it. Can Trevor trust Haven enough to finally free himself of his secrets and have a future with her?
Straddling the Line is a sexy sports romance. Trevor plays baseball and football, he is the ultimate jock! He is easy to like, caring and loyal, and down to earth. His secret haunts him, as do parts of his past. With all the build up to this that Jaci gives the reader, when all is revealed I felt it was very anti-climatic. Haven still carries a huge burden of grief on her shoulders a year after her father's death, and it is starting to rule her life. She was a little harder to feel close to, and her young character stood out a lot due to the lack of life experience and coping. I think a little more information about her father's death might have helped me relate to Haven better. I did like that even though Haven is a reporter, she respects Trevor's privacy. I felt that this was really important, especially if she was going to have any kind of relationship with him. Trevor and Haven have great chemistry together, and along with this, I like how Jaci brings them together, giving strength to each other.
I have not read all of the Play by Play books, but for the most part I feel that Straddling the Line can be read as a stand alone. I'm not sure if some of the blanks I had were just that, or if by reading the rest of the series would be more filled in.
Jaci's writing is easy to read and has great flow. The sports scenes are realistic, and I really liked the time frame of Straddling the Line.
If you enjoy steamy, sporty romances I'd recommend Straddling the Line to you.
Book Info:

Published July 1st 2014 by Berkley | (Play by Play #8)
Trevor Shay has it all—a successful football and baseball career, and any woman he wants. But when he finds out his college mentor's daughter is in trouble, he drops everything to come to her aid.
Haven Briscoe has finally landed a dream job as a sportscaster for a major network. But she hasn't been able to move past the recent death of her beloved father, and it's affecting her career. A plum assignment following the daily life of sports superstar Trevor Shay might be just the inspiration she needs…
Trevor will do anything to spark life back into Haven, including letting her into every aspect of his world. The chemistry between them flames higher than one of Trevor's home runs and faster than his dashes to the end zone. But as they grow closer, Haven stumbles onto Trevor's closely guarded secret, one he's hidden his entire life. And despite his protests, now it's Haven's turn to put everything on hold to help Trevor. Will he let her in and trust her with a secret that could blow his professional and personal world apart?