Crushing It by Lorelei Parker: Sierra is a girl gamer crushing the game developing world, the only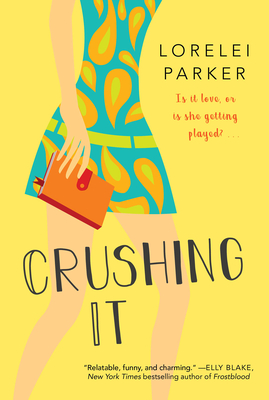 thing holding her back from being on top of her game is her crippling anxiety when it comes to public speaking. With the ghost of a failed presentation still haunting her and holding her back from crushing a pitch to go to Germany, Sierra's best friend suggests that she tries to work through her anxiety by taking part in a fun bar contest. Turns out the bar is owned by one of Sierra's college mates, the quietly handsome Alfie.
"Wouldn't it have been crazy if Alfie had crushed on me the way I'd crushed on Tristan? What a blind love triangle we would have made. And it might explain how affectionate Alfie had been toward me. Those decade-old crushes lingered. I ought to know."
With a little pep talk from cute bar owner Sierra decides to take the plunge and complete in the contest, after reading a piece about her crush on Tristan, a guy from her comm class, imagine her surprise when the person that follows her act is non other than Tristan. Mortified by this turn of events Sierra is ready to tuck tail and run for it, except Tristan seemed to be highly flattered by the diary reading and all but made Sierra's school girl crush come true when he asked her out. With her best friend Aida warning her not to be to quick to trust Tristan after what he had done in college. Sierra is sure that he has changed and wants to give him a chance, but with Alfie always there to support her Sierra starts to question which man is she more interested in. With this new strange love triangle in play Sierra not only has her feelings to think of but also her job. But will a shocking reveal from the past rock both her love life as well as her chance to go to Germany.
"I wouldn't worry our friendship wouldn't outlive an orgasm. And that added a brick to a wall I hadn't known I was building. It was a wall to a house where I might one day unpack my bags and settle in with a boy who'd known how to coax me to alight, like a skittish butterfly."
Crushing It was a brilliant read, I absolutely loved every bit of it. I found the entire concept such a cute and refreshing take in a second chance romance. I think the thing that made this book such a great read was how realist the entire thing was. Loved the dynamic between Aida and Sierra and that they had such a girl boss thing going on. The only thing I was not a fan of was how annoying Tristan was and that Sierra kept looking past his annoying nature.
"For the first time in my life, I was grateful for the fears I'd always cursed because if I hadn't lost my voice, I never would have found Alfie. In my quest to rebuild my confidence, he'd been waiting there at level one, like a mentor, to propel me farther in the game than I'd ever believed possible. As I continued to grow, he'd become my ally . And now, today, he proved he could be so much more."
I loved the twist at the end and how it all worked out in the end. This was a cute read with quirky characters, I will guarantee that you will fall in love with Alfie and his quiet cuteness. Another thing I have to say is that it was nice to see women having such a prominent role in the gaming world. I definitely recommend getting your hands on a copy of Crushing It this novel will pull you in and make you rethink all your old crushes.
Book Info:

Publication: June 30th 2020 | Kensington Publishing Corporation |
In life, as in gaming, there's a way around every obstacle . . .
To pitch her new role-playing game at a European conference, developer Sierra Reid needs to overcome her terror of public speaking. What better practice than competing in a local bar's diary slam, regaling an audience with old journal entries about her completely humiliating college crush on gorgeous Tristan Spencer?
Until the moderator says, "Next up, Tristan Spencer . . ."
Sierra is mortified, but Tristan is flattered. Caught up in memories of her decade-old obsession as they reconnect, Sierra tries to dismiss her growing qualms about him. But it's not so easy to ignore her deepening friendship with Alfie, the cute, supportive bar owner. She and Alfie were college classmates too, and little by little, Sierra is starting to wonder if she's been focusing her moves on the wrong target all along, misreading every player's motivations.
Maybe the only winning strategy is to start playing by her heart . . .