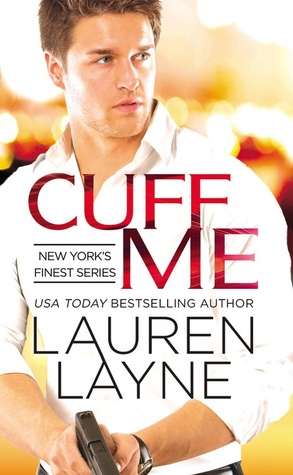 In Cuff Me by Lauren Layne, Detective Vincent Moretti has a problem: he cares about his long-time partner, Detective Jill Henley, only she returns from a three month leave of absence engaged to another man. Now Vincent has to deal with feelings he was unprepared for all while trying to solve the mystery of who killed actress Lenora Birch.
For his whole life, Vin had felt like an outsider. He was the quiet sibling, the person always on the outside looking in. As a result, he wasn't good at expressing himself. He assumed that Jill could tell how he felt, but when she returns engaged to another, he questions her feelings for him.
Their relationship had always been both horribly complicated and wonderfully simple.
Those two elements canceled each other out so that when it came right down to it, Jill and Vincent were beyond definition.
The simply were.
He'd always thought they'd shared a secret understanding that the fact that what was between them couldn't be named was precisely what made it theirs.
Now, he was realizing that this had been one-sided. That all this time, he'd merely been her colleague while she'd been his…everything.
I felt bad for Vincent because he was so conflicted. He claims he doesn't know how to love and be the romantic type of man Jill wanted. While it's true he's not good at being romantic, he is capable of love. He loves his family; he's always there for Jill, his siblings, and his parents. He just couldn't recognize that just because he's not a romantic type of man, that doesn't mean he isn't capable of love.
Jill is conflicted herself. She agreed to marry Tom, but seemingly for the wrong reasons. She wants romance, she wants love, and she wants them with Vincent. When she figures she can't get that from him, she settles for something less than what she wanted. When she finally decides to go after Vincent, I was happy for her for finally stepping up and trying to get Vincent to recognize that he is loveable. There was one point, however, where Vincent tries to organize a date and she didn't even recognize that he was stepping out of his comfort zone to attempt a romantic gesture. Up until that point I had liked her, but she lost some points with her reaction, or lack thereof, to his attempt.
I enjoyed watching the pair work together to solve the murder. They worked well together, bouncing ideas off one another. No matter what was going on in their personal lives, they were able to put it aside while they were on the job.
While this is the third book in the series, it can be read as a stand alone. Having read book one in the series, Frisk Me, it was nice to catch up with the rest of the Moretti family. They're very supportive of one another and rally around Vincent and Jill to help them see what they could have with one another.
If you've read and enjoyed the previous books in this series, or you enjoy the friends to lovers trope, or you enjoy a good "who-did it" mystery, I would recommend this book.
Book Info:

March 29, 2016 | Forever | New York's Finest #3
Vincent Moretti is one of the NYPD's top homicide detectives-and one of the most eligible bachelors in town. His family, however, thinks he should date his longtime partner, Jill-a sassy, sexy, smart-mouthed blonde who drives him absolutely crazy.
Behind the quiet authority, tough-guy demeanor, and dark aviator glasses lies a man with a big soul-and a hard body that can soften any girl's heart. After years as his coworker, Jill Henley has given up hope that anything could happen between her and Vin. Besides, loving him would break all the rules. But seeing Jill with someone else triggers feelings in Vincent he never knew he had. Now he'll have to stop playing good cop/bad cop-and find a way to convince her to be his partner for life. . .