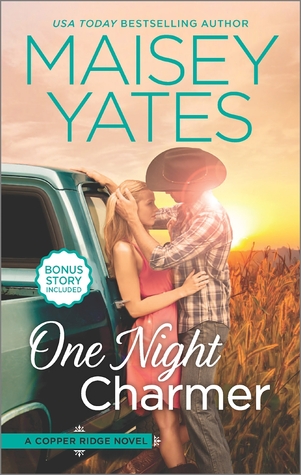 One Night Charmer by Maisey Yates: Ace does not want anything to do with golden girl Sierra West, daughter of the wealthiest man in town. But after family secrets tear her apart, Sierra needs a job outside the family ranch and it looks like Ace is her only option.
As she works for Ace at his bar, attraction and antagonism bloom between the two. And it only take so long before the give in to the attraction.
But as they work with one another more and dig in to each other's secrets, they may find some unexpected truths, about each other and themselves.
"I guess I need to talk to my brother."
"What are the odds he comes after me with a shotgun?"
"High. Very high. But I think if I deal with him, maybe I can save your balls."
"I'm not very happy with my balls right now, so I may just let it happen."
They're both a bit hard to like at first, but even so I was caught immediately. I'm a huge fan of hate-to-love and One Night Charmer certainly gave on that front.
And as the story goes on, there's definitely a lot to love. Although, the romance is hot, other conflict makes the relationship development a little weaker than I would like. However, their own personal development goes great and I loved seeing them change. They are truly flawed characters who felt real and who were finally accepting truths.
Also, they're total opposites, but they work, even with such huge differences – age and life wise. Ten years older than her, Ace has been through a lot – and there's an interesting conflict with his pastor father – and Sierra is truly just starting out and beginning to learn herself.
I highly recommend One Night Charmer. It can be read as a standalone, but I know I'm going to check out the others in the Copper Ridge series. I'm also definitely looking forward to more in this series.
Book Info:

 April 19, 2016 | HQN Books | Copper Ridge #4
Copper Ridge, Oregon's favorite bachelor is about to meet his match
If the devil wore flannel, he'd look like Ace Thompson. He's gruff. Opinionated. Infernally hot. The last person that Sierra West wants to ask for a bartending job—not that she has a choice. Ever since discovering that her "perfect" family is built on a lie, Sierra has been determined to make it on her own. Resisting her new boss should be easy when they're always bickering. Until one night, the squabbling stops…and something far more dangerous takes over.
Ace has a personal policy against messing around with staff—or with spoiled rich girls. But there's a steel backbone beneath Sierra's silver-spoon upbringing. She's tougher than he thought, and so much more tempting. Enough to make him want to break all his rules, even if it means risking his heart…