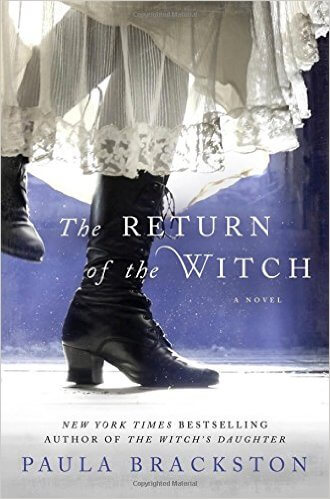 In The Return of the Witch (The Witch's Daughter #2) by Paula Brackston, Elizabeth is a witch who has a long and complicated history with warlock Gideon. The man she once thought could help her develop her own powers turned out to be a master of the dark arts, reveling in a more demonic side of the craft that Elizabeth couldn't abide by. So with the aid of her sister witches, they were finally able to banish Gideon to be imprisoned in Summerland.
…He sighed, almost sadly, and let his hand drop by his side. "We could have been magnificent together, you and I. Had it not been for your misguided sense of right and wrong."
But now Gideon has somehow broken free and has headed directly toward young witch Tegan, whom Elizabeth considers family. Tegan has gained knowledge and become a very strong witch in her own right but Gideon is able to catch her unaware, taking her somewhere into the past. Now it is up to Elizabeth and her Time Stepper companion Erasmus to locate Tegan in different cities over two centuries so they can stop the warlock, once and for all.
'I could feel the core of my being start to stir; the part of my soul where my magic lives. There is a bliss to connecting with that place. Good magic is pure, and strong, and wonderful, and to know that it is a part of me is the most amazing thing.'
The Return of the Witch was a paranormal-slash-time-travel tale of good vs evil that completely swept me away with author Paula Brackston's smart writing and the characters' palpable emotions.
Now this story was quite the adventure. Beginning in modern day and then time traveling back to the 17th and 19th centuries, we followed Elizabeth and Tegan as they took separate journeys in their pursuit to stop evil warlock Gideon. Their dual POVs worked quite well, I thought, in highlighting not only the differences between Tegan and Elizabeth's powers, but also how differently people were treated and/or viewed in the three centuries we explored. Of course, it didn't matter which century they were in when people began throwing the word 'witch' around. Bad things tended to happen afterwards, unfortunately.
Even though this was a sequel to The Witch's Daughter, I think enough of the background was noted to be able to read this as a standlone. The main and secondary characters were all extremely well developed so it was easy to connect with them right away and get a sense of how they pertained to the plot. I also loved the flow to the storyline itself. As Elizabeth and Tegan made their way to fight Gideon, we learned certain aspects of their pasts that directly influenced their abilities and their relationship with the warlock.
I think what I enjoyed most was how strong our heroines were. Elizabeth had spent many centuries protecting others and using her magic to try to defeat evil but it came at the cost of her never being able to let go and truly love someone for her own. Tegan was as close to a daughter as she'd ever have, so Elizabeth wasn't about to let Gideon harm her. Tegan on the other hand, being a young witch, was interesting to watch as she developed her powers and became the woman she was meant to be. I especially loved the bits of the story where Tegan was under the tutelage of witches across the globe, gaining valuable knowledge of their magic.
With beautifully written prose and richly detailed scenes, this paranormal had a very human feel to it that I think fans of the genre will latch onto. Tegan and Elizabeth's battle against darkness was nothing short of epic and led to an ending well deserved.
Book Info:

March 8th 2016 | by Thomas Dunne Books | The Witch's Daughter #2
Paula Brackston's debut novel, The Witch's Daughter, was the little book that could–with a captivating story, remarkable heroine, and eye-catching package, it has now netted over 200,000 copies in all formats. Now Paula returns with its sequel The Return of the Witch, another bewitching tale of love and magic, featuring her signature blend of gorgeous writing, a fabulous and intriguing historical backdrop, and a headstrong and relatable heroine readers will cheer for.
After five years in the Summerlands, Gideon has gained his freedom. Elizabeth knows he will go straight for Tegan, and that she must protect the girl she had come to regard as her own daughter. In the time since she the dramatic night in Batchcombe woods, Tegan has traveled the world learning from all manner of witches, and she is no longer the awkward teenager and novice spellcaster she once was. However, her skills are no match for Gideon's dark, vengeful power, and he succeeds in capturing her. Will Elizabeth be able to find her? Will they be able to defeat their nemesis once and for all?
In a breathless journey that takes them through history to the 17th and 19th centuries, witch pursues warlock. Three people steeped in magic weave a new story, but not all will survive until the end.