In Daddy in Disguise (Crescent Cove #7) by Taryn Quinn, Macy Devereaux has created a business,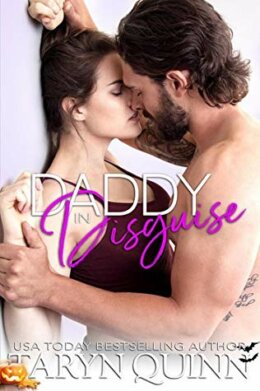 Brewed Awakenings, out of her love of coffee and all things Halloween. Soon to be paired up with her new restaurant, The Haunt. But somehow with a million things on her To Do list, the one thing still left undone that bugs her is her attraction to her contractor John Gideon. He makes Macy crazy with his slow grin and the numerous sparks between them. But finding out that he was holding back the fact that he's a dad to an eight-year-old? That hurts a bit. Macy thought she and Gideon might get a chance to fan the flames between them at some point. But she doesn't want to mess around in a situation that could get really serious really quick like with the ready-made family of Gideon and Dani.
'We were so tangled up after years of working together and keeping a barrier firmly between us for so long. But here and now, he was mine.'
Working on Macy's new restaurant means having to see the sexy woman on an almost daily basis, which is driving Gideon insane–with lust, is what he's telling himself. Not genuine feelings. Because that could cause all sorts of problems in his already complex world of being basically a single dad. He'd do anything for his sassy daughter Dani, though. And when she meets–and surprisingly bonds with–Macy, Gideon sees it as the potential to explore things with Macy while helping his potential custody case. He knew things wouldn't be easy. He's talking about the most cynical, sexiest, sarcastic, did he mention sexiest?, woman he knows. Although Gideon is sure that if they can work out their issues, what they have between them could be incredible.
"Hey, is that cotton candy?"
I grinned as I looked over my shoulder at the telltale plastic bags hanging from the eaves of the candy apple booth. "Should I be insulted you're more interested in that than discussing my sexual appetite?"
"No, because you have no clue the kind of dirty things I can do with cotton candy and proper motivation."
So. Much. Fun!! Daddy in Disguise had exactly what I hope for when I pick up a book by dynamic duo Taryn Quinn: lots of yummy tension, multidimensional characters, a cool setting, and enough laughs and happy sighs to satisfy any romance reader.
'No gentle first kiss between us. Nope. There was only lust unlocked.'
I' still not completely caught up on all the books in Crescent Cove yet (I'm working on it!) but I was able to easily read Gideon and Macy's story and know what the heck was going on. Fans have been waiting a while for these two to finally–*finally*–make a move on each other. And holy cow but it was worth the wait. It wasn't at all easy for the mistress of the dark and her sexy contractor, though. Nope. Taryn Quinn put them through the wringer in some of the most realistic–and funniest–of ways.
Talk about a slow burn romance. Macy and Gideon have been dancing around their attraction for a while now. And I won't say why, but when she learns he's a father to an (awesome) eight-year-old, Dani, Macy gets a little bent out of shape over Gideon withholding the info. I really got a kick out of her. The obsession with all things Halloween. Her snarky attitude that hid the kindhearted woman she really was. And the world of hurt in her past that caused Macy to build walls around her heart. But don't worry. Gideon broke them down. And his little girl Dani, who stole every scene she was in, was the one who completely melted Macy's heart. Sigh…
Gideon was my kinda hero. He had a little alpha to him but was a truly nice guy and an amazing dad. He was sexy but didn't flaunt it. And he had enough smarts to know it was Macy who would basically decide when it was time for things to heat up between them. (She might have scared him a wee bit with her attitude, lol!) I loved watching them flirt. The verbal banter between Gideon and Macy was on point and fit their personalities so well. It was the genuine emotion between them, that special connection they formed, that really wowed me. And Dani just floored me with her spunky ways. She was kind of an old soul, and also a kindred spirit to Macy.
An oh so sexy and complicated RomCom, Daddy in Disguise was the culmination of a romance that's been in the works for a long time. In true Crescent Cove fashion, hijinx ensued, people lovingly teased and helped each other. And our very deserving couple got the happy ending of their dreams.

Book Info:

Publication: Published November 19th 2019 | Rainbow Rage Publishing | Crescent Cove #7
I'm the one who isn't pregnant. Yet…
Expanding my successful café was a no-brainer.
Sleeping with the contractor?
Well, mix some hormones, excellent coffee, and the romantic atmosphere of the movie Halloween, and naked stuff happens.
Yeah, Gideon is smokin' hot, as shown by the photos from that pesky camera crew that's suddenly following us around.
Say what?
Because surprise—he's a single father, and now he's the most eligible one in Crescent Cove.
Every horny woman in our small town wants a go at his tool…belt.
And then we're caught on camera—I still had my pants on, thank you—and all Hades breaks loose.
Now the little secret he kept from me isn't nearly as important as Gideon keeping custody of his daughter.
When that full moon rises on Halloween, I might finally be dropping my mask. And risking it all for love…and really good hammering.
Author's note: This romantic comedy is Macy and Gideon's story—finally!—and has a happily-ever-after ending.