Carolyn Brown has a charming, fun Christmas release in Christmas with a Cowboy. She has captured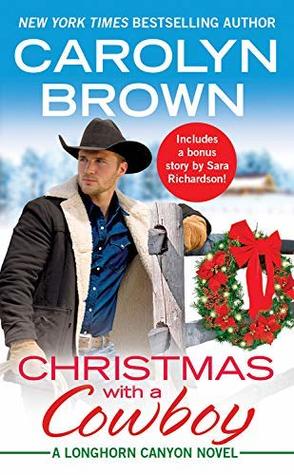 the spirit of Christmas and the togetherness of family in this warmhearted story.
Bridget O'Malley and Maverick Callahan first met in Ireland at Christmastime a year prior to the timeline in this story. Bridget lives there and Maverick accompanied his Granny Iris there to visit her childhood friend Virgie. Iris was born in Ireland, met a Texas cowboy with Irish roots, married him and moved to Texas.
Fast forward one year and Maverick travels to Granny's ranch to help her out after she broke her hip. When he arrives at the ranch house Granny lets Maverick know that she has hired her old friend Virgie's granddaughter as temporary housekeeper while she is recuperating. Virgie has passed away and her granddaughter needed a job and a place to stay until she gets back on her feet. Imagine Maverick's surprise when he walks in the back door with his gear and sees Bridget. He is even more surprised to see baby Laela.
Bridget has guardianship of Laela who is her best friend, Deidre's baby. Deirdre and her boyfriend were killed in an automobile accident. Things sure have become interesting. Will Bridget and Maverick give in to their magnetic attraction?
Christmas with a Cowboy is the fifth book in Ms. Brown's Longhorn Canyon series. The two main characters, Bridget and Maverick both love their families, their heritage and their independence. Maverick's Granny plays an important role in both their lives. She appealed strongly to me for her fortitude, loving bossiness and dedication to family. This story gave me such good feelings. It's a great Christmas story filled with a church Christmas pageant, tree-trimming, Christmas shopping and lots of presents. Readers will be delighted with this story!
Book Info:

Publication: September 24th 2019 | Forever | Longhorn Canyon #5
A rugged Texas cowboy gets into the Christmas spirit to prove himself to the woman he loves in this heartwarming fifth novel of the USA Today bestselling series.
Maverick Callahan lives up to his reputation as a freewheeling cowboy. But a year ago he fell head-over-heels for an extraordinary woman he met while on vacation, a woman he was convinced he'd never see again. So when she appears on his doorstep like a Christmas miracle, Maverick is determined not to waste his lucky break.
Bridget O'Malley's world has flipped upside down. As the new guardian of her best friend's baby, she hasn't had a moment to think about the Texas rancher who broke her heart. He's just as sexy as ever, but she knows better than anyone that he's not the settling-down type. As the trees are trimmed and mistletoe hung, will some holiday magic help Bridget trust this carefree cowboy with her heart and her future?
Includes a bonus novella, "Rocky Mountain Cowboy Christmas" by Sara Richardson!