Falling for my Brother's Best Friend by Piper Rayne Savannah is the oldest of the Bailey girls and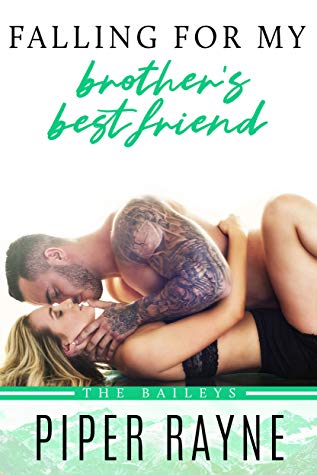 she's a workaholic and control freak. Since taking over the family business at 18, she's put aside her life to support her family and she's used to carrying that weight. She loves her family and their small town, but she's always maintaining the family name and legacy.
Liam is a successful tattoo artist who runs his own business. He's sexy, charming, and almost a member of the Bailey family. He's best friends with Savannah's twin younger brothers and he's had a crush on Savannah for years.
Staying with Liam is a bad idea. He's sexy, he knows it, and Savannah can't help her attraction to him. Any complications with Liam would be too much to handle right now and she's not looking to be the next woman in a long line who have fallen at his feet. Their chemistry is intense and she's looking for any excuse to deny it and him.
"You have no idea what I want from you. And I saw that girl last night."
I throw my hands in the air. "Because I was drunk! But that's an exception for me."
"If you keep telling yourself that, you'll believe it."
"Stop it." I jab a finger in his direction. "This is who I am now."
Liam sees Savannah for the woman she is beneath the duty and responsibility. He challenges her and devises creative ways to get her to open up, relax, and deal with her emotions. They fight, bicker, banter, and flirt as they try to navigate being roommates, the talk of the town, friends, and maybe more. Savannah is everything he's ever wanted if only he can convince her to give them a chance.
Liam clears his throat. "I love your dress." He leans back, not shy about his appraisal.
"Thanks for mentally stripping me just now." I head to the buffet table since I'm starving.
"You're welcome. Thanks for enjoying it so much."
I whip my head around, and that smirk I love is on his face. "Is this the way it's going to be now? We openly say what we're thinking?"
Falling for My Brother's Best Friend is entertaining and sexy with angst. Piper Rayne developed the characters while providing humor, heat, conflict, and family. Piper Rayne continued to build on an entertaining family in the Baileys in this opposites attract story. Falling for My Brother's Best Friend can be read as a standalone. Fans of Melissa Foster and Meghan Quinn will enjoy Falling for My Brother's Best Friend.
Book Info:

Publication: Published October 11th 2019 | Piper Rayne Inc. | The Baileys #4
Let's say you're an independent, self-sufficient woman who runs the family company and you find yourself falling for your little brother's best friend. Now, more than ever, you need to count all the reasons why you need to abandon falling.
Abandon Falling #1 – He's a womanizer. Hasn't had a serious relationship a day in his life and changes women more often than he changes his sheets.
Abandon Falling #2 – He's never serious. He cracks one-liners, mostly at your expense.
Abandon Falling #3 – When things go wrong, he seems unfazed and always remains in control. It's so annoying.
Abandon Falling #4 – He has tattoos. Lots of them. Everywhere. Not to mention, he owns a tattoo parlor. (Damn it! Why doesn't that sound like a bad thing anymore?)
Abandon Falling #5 – There's a growing list of how different you two are. You can't get along for fifteen minutes—a lifetime together would land one of you in prison.
Keep repeating those reasons and drown yourself in work. Pretend you don't notice his good qualities or how enticing he looks without a shirt, and do not, I repeat, do not agree to live with the man while your place is being repaired from flood damage.
Trust me, even the strongest of us can only forego temptation for so long.