In Damien (Stark Saga #6) by J. Kenner, Damien Stark doesn't take threats lightly. Particularly when they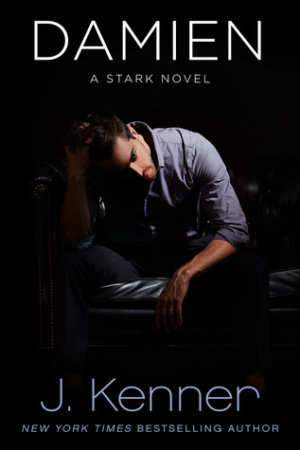 are against his family or friends. And having lived through a waking nightmare recently, he's ready to spend some quality time with his wife Nikki and their two beautiful daughters before returning to the day to day tasks of running his business empire. Although fate makes other plans for Damien when his loved ones are yet again threatened, leaving them scrambling to find out who is behind it all.
"Talk to me," she demanded. "Tell me what's wrong."
He wanted to. God help him, he wanted to spill out the words. But how could he confess so much weakness when she needed him to be strong?
Damien is not a man who likes to feel out of control. So he surrounds himself with the best security and tech people he can find to work on solving his family's crisis. Through it all he wants to be there for Nikki and his girls but feels like he's already let them down once. Damien refuses to let any more harm come to any of them. But just when he thinks they've found the path that will lead them to the answers they need, he's thrown sideways with a betrayal that could turn deadly.
'This was what he needed. This moment, this woman. A reprieve from the noise and the drama and the horror, lost here in the arms of his wife, his love.'
This is what fans of J. Kenner's Stark saga have been waiting for–Damien's book, told strictly from his POV!! And oh just you wait until you get an up close and personal look into the fascinating mind of this business legend and his thoughts on his wife and daughters, the loves of his life. One word: swoon.
'He had one job as a father. One job as a husband. To protect his family. And when it had truly counted, he'd completely missed the mark.'
Damien Stark has become one of those larger than life characters who instantly steals the show whenever J. Kenner adds him to a scene in her many spinoffs from his and Nikki's original series. He's enigmatic, sexy as sin, and such an incredibly good man that how can you not help but fall for him? And that was *before* seeing things from Damien's direct POV. So obviously this book basically confirmed my thoughts that he is one of the most complex and intriguing heroes that Kenner has created. And that's saying something, considering the many wonderful guys we've met in her dozens of books.
Seeing Damien's thoughts on his family, career and past was pretty incredible. I loved how he cherished Nikki and their daughters, how they were the first thing on his mind and they were always there in every decision he made. There were a lot of issues happening at the same time in this story, a continuation of the events from the previous book, Lost with Me. And we got to see Damien's legendary control slipping a bit as his family was threatened more than once. It felt like a real, human reaction how he had so much anger and hated that things were spiraling out of his hands. But I adored that Nikki and his daughters were there to bring him in from the darkness and show him the light and love that he craved. *sigh*
Broody, angsty, sensuous and thrilling, Damien was a fast-paced novel that made me fall in love even more with Damien & Nikki as a couple, *and* with J. Kenner's storytelling ability.
Book Info:

Publication: January 8th 2019 | Evil Eye Concepts, Incorporated | Stark Saga #6
From New York Times and USA Today bestselling author J. Kenner comes a new story in her Stark series…
I am Damien Stark. From the outside, I have a perfect life. A billionaire with a beautiful family. But if you could see inside my head, you'd know I'm as f-ed up as a person can be. Now more than ever.
I'm driven, relentless, and successful, but all of that means nothing without my wife and daughters. They're my entire world, and I failed them. Now I can barely look at them without drowning in an abyss of self-recrimination.
Only one thing keeps me sane—losing myself in my wife's silken caresses where I can pour all my pain into the one thing I know I can give her. Pleasure.
But the threats against my family are real, and I won't let anything happen to them ever again. I'll do whatever it takes to keep them safe—pay any price, embrace any darkness. They are mine.
I am Damien Stark. Do you want to see inside my head? Careful what you wish for.