Dangerous Beauty by J.T. Geissinger: Evalina is a Russian beauty, former ballerina, and on the run from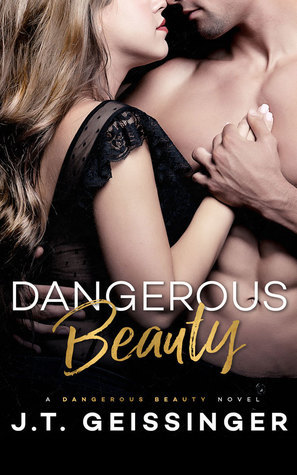 her dangerous and evil ex. She's found some measure of peace living a quiet life in Cozumel. She is content to live a simple life and enjoy small pleasures, especially after escaping the hell that was her life with Dmitri. Eva is also a fighter and a badass as she's taken steps to learn to protect herself should Dmitri's henchmen ever appear.
Nasir, or Naz to his friends, has a seemingly easy first assignment with his new employer: watch and report back on a runaway wife of a Russian billionaire in Cozumel. Naz is a good man who has suffered in his past. He's sexy, charming, and with the body of someone who has always worked in security. He's an alpha and very protective of those he cares about.
Eva has created contingency plans should her new identity and location ever be at risk. She deliberately keeps to herself and doesn't really make friends since she never knows when she might need to run. So, she surprises herself when she's so attracted to a handsome and sexy stranger she just happens to run into a few times. Eva and Naz fall into an entertaining banter pretty quickly even though Naz struggles to maintain a more professional distance.
"Besides, you have tattoos. Isn't that letting someone stick a bunch of needles in you?"
"It's one needle. And my tattoo artist would be insulted to hear you compare him to an acupuncturist."
"Oh, excuse me. Your guy is an artiste, is that it?"
Eva and Naz are clearly attracted to each other from their first meeting and their feelings only grow stronger with the more time they spend together. It's a huge step for Eva to try to trust anyone, but especially another man. They would never be able to remain as just friends, but both have secrets that threaten their idyll, deepening connection, Eva's peace, Naz's job, and their safety.
"I'm sorry."
I glance at him sharply, then huff out a breath. "It's amazing how you do that."
"Do what?"
"Make a lie sound like a truth."
Dangerous Beauty has suspense, conflict, danger, heat, humor, and banter. J.T. Geissinger draws you into this world and slowly develops the relationships while revealing new clues about their pasts and the present. Ms. Geissinger created endearing alpha males and strong and feisty women, while leaving you needing the next book. Fans of Katee Robert and Sophie Jordan will enjoy Dangerous Beauty.
Book Info:

Publication: March 26th 2019 | Montlake Romance | Dangerous Beauty #1
A strapping bodyguard and a mysterious beauty on the run cross paths and tempt danger in Cozumel…
For Nasir, former Special Ops military man and bodyguard, his new job seems like an easy-money gig: trail a Russian mobster's runaway wife in Mexico, enjoy the sun, observe, and report. Just one rule: don't get too close. But it's all Naz can do not to watch the alluring dancer's every move. A closer look is irresistible—especially when she's in trouble.
Evalina escaped to the island getaway to live an untraceable life—as far away from the past as she can get. But Eva can't ignore the dark, muscled stud who rescues her from a drug gang. He says he's an ex-cop on vacation. When providence throws them together time and again, Eva thinks it's all a beautiful coincidence. Now she's giving in to a strange new sensation: trust.
But Naz has a mission to accomplish and a secret to keep. Eva has her share of secrets, too. And as the heat flares between them, Naz knows that trust could become the most dangerous impulse of all.
***Part one of a three part series.***