Lost and Found by Lexi Blake is the second book in The Forgotten series, a spin-off of her Masters and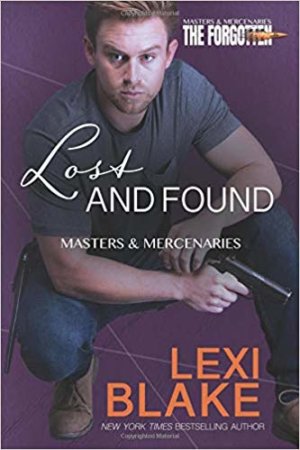 Mercenaries series. The series focuses on the Lost Boys, a group of men who have lost their memories at the hands of Dr. Hope McDonald. They are now determined to track down everyone involved in creating the drug that caused it and to find a cure, all while trying to stay ahead of Levi Green, a member of the CIA, who wants the drug for his own reasons.
This book is Owen's story. Owen was the one person who spent the least amount of time with Dr. McDonald. A member of the McKay-Taggart security team, he had been captured by Dr. McDonald and turned over the location of two of his associates in order to save his mother and sister. Only Dr. McDonald had lied to him and doses him with the final version of her memory-wiping drug.
When he meets Dr.Rebecca Walsh, who had worked with Dr. McDonald, he's instantly attracted to her. He knows she might be an enemy, but he can't help it. The more time they spend together, Owen begins to believe in her innocence, despite the thoughts of some of his teammates.
All Becca wants is to find a cure for Alzheimer's, which killed her mother. The last thing she expected was to get caught up in a conspiracy that makes it look like she stole money from her research fund, to get surrounded by people who are suspicious of her research, and to have the CIA come after her.
I felt for Owen. He carries around a lot of guilt for giving up Theo and Erin to McDonald and to his mother and sister, even though he doesn't remember them.
=="I didn't do it for the right reasons," he said slowly, forcing the words out of his mouth. He didn't want to say them, but he had to. Becca deserved honesty. So did the rest of them. "I did it because I don't think I deserve to live. I did it because I thought if I went out in a blaze of glory saving my brother, then maybe I could make things right."==
He's under the belief that most of team, both the Lost Boys and those at McKay-Taggart, no longer trust him. He feels this is the reason Ian Taggart pulled him off being the lead on gathering intel on Becca. And while there's at least one person who's made it known that they don't trust him or haven't forgiven him, the majority of the people do, as Ezra points out.
=="Somehow I think she'll forgive you for that. Everyone else has. Even Erin. Oh, that woman won't ever let you know it, but she disagreed with Big Tag about pulling you from the lead. And Big Tag didn't pull you because he was still angry with you. He pulled you because you stay in the shadows and show no ambition to move out of them. He pulled you because you let your guilt rule your life, and that means you're likely to do something stupid like sacrifice yourself at the earliest opportunity."==
I also felt for Becca. As a genius, she graduated college at fifteen. Her life since then had been focused on find a cure for Alzheimer's. She has no friends, only a couple of acquaintances, and pretty much has the same routine every day. Her initial encounter with Owen finally allows her to take baby steps to break out of the routine, including switching up her normal coffee order.
=="What's your favorite?"
Nina's eyes widened in surprise. "Oh, uhm, I love the caramel latte, actually. It's got great flavor. It's not too sweet."
"I'll take that." New things. She was going to try new things."==
She's horrified to learn that Dr. McDonald used her research to harm people, when all she's ever wanted to do was help people.
While I thought their romance was a bit rushed, I did like them together. Becca gives Owen something to live for, and Owen shows her how to live. They bring out the best in one another.
It appears there's a traitor amongst the Lost Boys. This is not resolved in this book and, based on the ending, it will be carried over to future books in the series. I'm honestly not sure who it is, so I'm looking forward to seeing what the author is going to do with this.
It was nice to see some of the other members of McKay-Taggart again, although I missed Ian Taggart and his sarcasm in this one. He only makes a very brief appearance in the beginning of the book.
I would recommend reading the series in order, as the situation with Dr. McDonald is an on-going storyline. The Lost Boys are first introduced in the Masters and Mercenaries series, but I believe readers will get the gist of what's going on even if they only start at the beginning of The Forgotten series.
Lexi Blake is one of my go-to authors for romantic suspense. Her men are dominate and protective, her women are submissive, strong, and intelligent, and there is always plenty of suspense to keep the books moving at a non-stop pace. Fans of romanctic suspense will not be disappointed with Lost and Found.
Book Info:

Publication: February 26, 2019 | DLZ Entertainment, LLC | Masters and Mercenaries: The Forgotten #2
Owen Shaw and his "brothers" lost everything, their entire existence erased. Science had robbed he and all the Lost Boys of their memories and their past, but not their future. Hunted by every intelligence agency in the world, they are focused on two goals: find a cure for what was done to them and ensure that the technology that ruined their lives doesn't get out into the world. Rebecca Walsh might be the key to achieving both. Owen has been studying her closely, living in her building, and he cannot resolve how such a beautiful, giving woman could have helped design the evil process that destroyed his past.
Dr. Rebecca Walsh has dedicated her life to researching the secrets of the mind. Her atmospheric rise in her field was fueled by the horror of watching her mother's agonizing journey into madness at the hands of a disease with no cure. She vowed to never rest until she finds it. But obsession takes a heavy toll, and when Owen moves into her building she realizes how much of her life she has missed out on. Owen opens her eyes to a whole new world, filled with joy, laughter, and possibly love.
Owen and Rebecca grow closer, unraveling more about each other and the mysteries surrounding her connection to Hope McDonald. As the sinister forces working against the Lost Boys descend on Toronto, secrets long buried are uncovered that could shatter the bonds holding the Lost Boys together and cost Rebecca her life.