Sorry Not Sorry by Sophie Ranald: Charlotte has a good job and great friends but she feels like she's stuck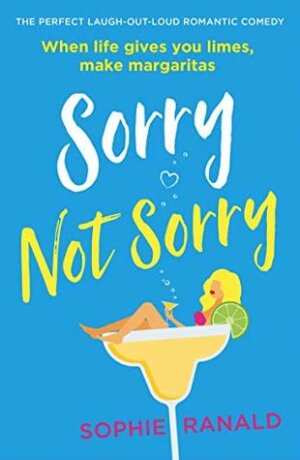 in place. It doesn't help that her best friends are getting married and moving out of their shared apartment. Charlotte is smart, fun, and loyal. She loves her girls night outs and margaritas but she can't remember the last time she had a good date.
In an effort to change up her life, she stumbles upon the Sorry Not Sorry podcast detailing the life a single woman in NYC who challenges herself and her listeners to step outside their comfort zones, find their inner bad girl, and take chances. Charlotte goes along with each new challenge and is generally surprised with the results.
'I've been "broadening my horizons",' I said, doing air quotes. 'Trying new things. So today I went to a running club. I know, I should have known better and I'm ridiculously unfit and it's all my fault. But they said they were relaxed and friendly. They said they welcomed runners of all abilities. What they didn't say was that they were doing a special training session today for the Tough Mudder.'
Along the way, Charlotte also has to get to know her two new rooommates and help her best friend plan her wedding. Charlotte has new experiences and what seems to the relationship she was searching for with a sexy, charming, and intriguing man. Between the ups and downs of her romantic life, long and stressful days on the job, and wedding drama, Charlotte is just looking for happiness and a love to call her own.
Sorry Not Sorry is an entertaining rollercoaster of drama, angst, challenges, and surprises. Sophie Ranald created a diverse and interesting cast of characters from roommates, bridesmaids, friends, neighbors, and co-workers. Ms. Ranald provided an interesting take on the challenge of finding love. Fans of the movie Bridesmaids and Radhika Sanghani, Teri Wilson, and Katie Fforde will enjoy Sorry Not Sorry.
Book Info:

Publication: February 13th 2019 | Bookouture |
Is this all there is? I hadn't had so much as a sniff of a shag for over a year. I scraped the last dregs of Caramel Chew Chew ice cream out of the bottom of the tub with my finger and licked it. It left a sticky smear on my phone's screen when I typed into Google, "How to find love, sex and happiness."
Charlotte has always been a good girl.
She sorts her paper from her plastic. She eats her greens (even Spirulina, whatever that is). Boozy brunches with her best friends on the third Sunday of every month are about as bad as she gets.
But being good is getting boring…
Charlotte's not just stuck in a rut – she's buried in it up to her chin. The only company she has in bed is the back catalogue of Netflix and falling in love feels like the stuff of fairy tales. So when she stumbles across a popular podcast, Sorry Not Sorry, which challenges women to embrace their inner bad girl, she jumps at the chance to shake things up.
Old Charlotte would never ask for a stranger's number, go on a blind date or buy lacy lingerie… But New Charlotte is waving goodbye to her comfort zone (with a side order of margaritas). And it turns out that good things happen to bad girls, as Charlotte finally finds her Mr Right – or so she thinks… Is falling in love too tough a challenge even for Charlotte?
Fans of Sophie Kinsella, Mhairi McFarlane and Matt Dunn will love this fabulously feel-good novel that will make you laugh till you cry and leave you living life to the full, margarita in hand!