Dangerous Magic is the debut cozy mystery novel of Evie Hart. In Romance Land she is known as Emma Hart. This story is an excellent first in the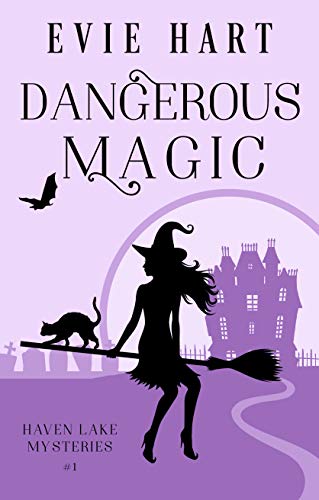 Haven Lake Cozy Mystery series.
Haven Lake is a very special town. It is populated by paranormals of all varieties. A special ward only allows paranormals to enter. Avery Thorn has been living in the normal world for the past two years. She is a witch and is able to mask her powers enough to live among humans. Now she has been called back home to Haven Lake to bind her grandmother's ghost to the family property. Grandma Cherry's ghost has been running wild and wreaking havoc in Haven Lake annoying lots of its inhabitants. So she must be bound. Avery does her duty and heads to the offices of the Witch Council to document the binding.
What she finds there is horrifying – the dead body of a werecat and the witch who is the Head of the Council near death. When the Head Witch recovers she tasks Avery with finding the murderer. Not an easy task! Along the way she manages to butt heads with the new detective in town, Dax Sanders. Did I mention that he is super hot and sexy? Who will end up solving the murder, Avery or Detective Dax Sanders?
The story is full of humor with lots of laughter throughout. The characters are fun, well-thought-out and the dialogue is very entertaining. Evie Hart has a winner in this book. She's got me hooked. I am really looking forward to what Avery and her compatriots get up to in the next book in this series. Bravo Evie Hart! Keep 'em coming!
Book Info:

Publication: May 14, 2019 | Self-published | Haven Lake Cozy Mysteries, Book One
It's not every day you have to return to your hometown to bind your borderline-poltergeist grandmother to the family property.
Unfortunately, today is that day for Avery Thorn.
All Avery wants is to report the binding to the Witch Council so she can fulfil her obligation, but finding a dead body and the Head of the Council on the brink of death isn't in her plan.
Especially when she's pegged as the number one suspect.
Now, it's down to Avery and her cousins—and her sassy feline familiar—to figure out who tried to murder the Head of the Council. Magically bound to find the culprit, the last thing she needs is the new detective getting under her toes.
Unfortunately for her, she finds herself colliding with the hot cop more than she wants. And since her familiar hates him, it's not always pleasant.
New magic and a devastating tragedy threaten to derail their investigations—but not quite as much as the person who isn't happy they're involved…