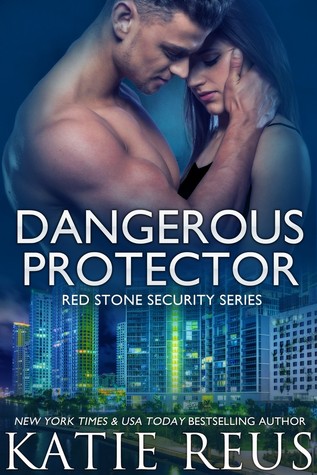 In Dangerous Protector by Katie Reus, Tegan O'Kelly finally feels safe. After being on the run from the mob, she finally thinks she's safe when it's declared that the man after her had been killed. She's made friends, has a job she enjoys, and has her eye on a certain member of Red Stone Security, a man she believes doesn't even like her.
He was looking at her back with a mix of emotions. Annoyance and…hunger? She blinked. That couldn't be right. Well, the annoyance was probably spot on, even if she didn't know what she'd done to bother him. Maybe he just didn't like redheads. Which as ridiculous, since gingers were awesome.
Aaron Fitzpatrick hasn't wanted to be with a woman in five years since the mother of his son, Dillon, took off after his birth, so he's annoyed that he wants Tegan. He tries to keep his distance, but when her car blows up and it's clear someone wants her dead, he knows he needs to protect her.
Tegan was smart and strong, having to evade the mob for two years. Not only did she manage to get herself away from them, she took the mobster's dog, too.
The handsome detective and Aaron both looked at Tegan with a mix of surprise and possibly horror.
Aaron was the first to speak. "You stole a gangster's dog?"
She lifted a shoulder. "She was a puppy when I took her. Jerk was abusing her." And she felt no guilt over what she'd done. Kali was hers now.
Aaron was an incredibly devoted father and protector. He made sure to keep both Dillon and Tegan safe, including sending Dillon to stay with his parents. Dillon was cute; he was always trying to talk people into giving him what he wanted.
"If you want I can take Kali off your hands," Dillon piped in.
"What?"
"I can Kali to Nana's tonight." He gave her the sweetest smile that had just a hint of mischievousness.
The only character that appears from the other books is Porter Caldwell, Aaron's boss at Red Stone Security (his story is book one of the series, No One to Trust). If you haven't read any of the other thirteen books in the series, you're more than able to just jump right in with this one without feeling like you're missing anything.
Dangerous Protector is a well-written, fast paced story that grabs you from the beginning and keeps your attention until the very end. If you're a fan of romantic suspense, this is one worth reading.
Book Info:

 July 12, 2016 | KR Press, LLC | Red Stone Security #14
She thought she was finally safe…
After two years of running Tegan O'Kelly could finally stop when the deadly gangster after her died. Eight months ago she put down roots in sunny Miami. For the first time in years she has friends, a job she likes and she can think about the future, not just surviving to the next day. When her car is bombed in broad daylight, she decides to stand her ground instead of running from her faceless enemy.
But a deadly enemy has her in his crosshairs…
Single father Aaron Fitzpatrick knew Tegan was trouble from the moment he laid eyes on her. Sexy trouble wrapped up in a petite, dynamite package he fantasizes about kissing far too often. So far he's been able to keep his distance, but when he witnesses her car explode—with her close by—something protective erupts inside him. After his wife left him and their son five years ago, he's stayed away from relationships and women, but he can't keep his distance from Tegan. It's clear she's in danger and the more he learns about her, the more he knows he has to stand beside her and fight the danger hunting her.