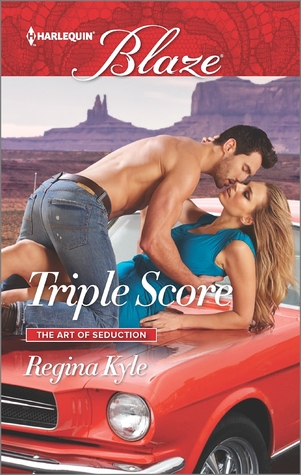 Triple Score by Regina Kyle: Noelle Nelson had to focus on her knee. She had to rehab and get back out on the floor to dance. After all her family had turned to weddings and babies and what did she have? A career dancing if her knee didn't keep her sidelined and her last relationship was such a joke looking back on it that the pain and humiliation was all she still felt. So that was why she was hiding out at the best rehab center focusing on her leg and getting moving again quickly.
Jace Monroe had hurt his elbow before. There was going to be nothing to this rehab thing then, right? Except this time was different and he felt it. He didn't know why but he just wasn't sure he was going to be able to make it back on the field doing the one thing he knew he was good at, playing ball. So he was back at the rehab center pushing to get going and get back sooner rather than later.
What starts as a series of comical errors leads to Jace and Noelle spending more and more time together and with that these two non-relationship people start to change their thinking. When the tire hits the road that will be the test for these two.
This is the last in the Nelson series and that is incredibly sad. While this book can be read as a standalone it does full circle several characters and Ms. Kyle has done a wonderful thing and given us some new characters to look out for and hopefully see in future books. The story flows smoothly, breathes life into letters on the page and allows for dreamers to realize sometimes it's not about obtaining the goal, it's about what you do when you get there and realize there are other paths to take. Do yourself a favor and pick this up, but be aware you might not be able to put it down until you've finished with this HEA.

Book Info:

 Published July 19th 2016 | Harlequin Blaze | The Art of Seduction #4
Knowing the score…
Prima ballerina Noelle Nelson needs to recover from her injury and return to the stage. She won't consider failure…or be distracted by baseball's resident bad boy, Jace Monroe. His tattoos, wicked smile and deliciously athletic body might drive her crazy, but a media frenzy is the last thing this good girl needs.
Jace is sick with fear that his own injury will never heal, but he's not about to let anyone notice, especially the gorgeous blonde dancer he loves to infuriate. He's pushing himself past his physical capacity, putting his future at risk. Still, when it comes to making a play for Noelle, Jace is in scoring position—and he's not going to back down!