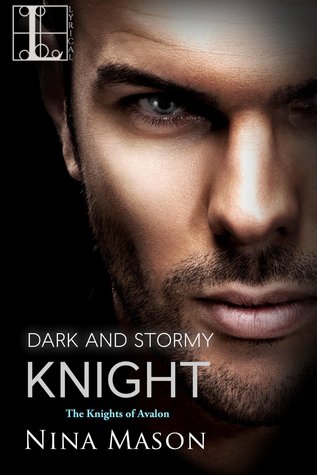 In Dark and Stormy Knight by Nina Mason, Gwyn is excited to go to Scotland to meet Lady Ruthven, hoping to convince her to sell the rights to her book so it could be made into a movie. When the tour bus she was on goes over a cliff, she's saved by Leith MacQuill.
Leith is actually Lady Ruthven, which Gwyn quickly pieces together. What she also decides fairly quickly is that he's a faery who can shapeshift into any creature he can visualize. Gwyn is intrigued by Leith and they jump into a sexual relationship. The only problem is that Leith had been cursed by the Queen: any woman he falls in love with would die. He already lost three wives; he didn't want to lose Gwyn, too. To keep her at arms length, Leith engages her in role playing games with BDSM elements. Despite his best efforts, Gwyn falls in love with him and becomes determined to break the curse so they could be together.
This novel has an interesting mix of facts and mythology mixed in, as readers get introduced to several mythological characters and the stories behind some of them. I don't normally read books like this, and it was an aspect I found interesting and informational.
It was strange that Gwyn immediately decides that the cat in her room was Leith, and that he's actually a faery. Sure, she had been told stories about faeries by her father growing up, but I would think there were other conclusions a person would jump to before that one. Still, her belief in faeries and other mythical creatures does allow the story to move forward at quick pace.
One thing that I felt didn't have a conclusion was the discovery that Leith had a son who his wife had hidden to save his life. Leith is upset that he didn't know he had a child, but when the truth comes out, he doesn't try to find him. There's no clear answer as to where his son was or if he would eventually go after him.
While this is the second book in the series, it can be read as a stand alone. A character from the first book, Starry Knight, does make one appearance, but it's so brief that those who haven't read it, like myself, don't feel like they're missing information.
Overall I enjoyed Dark and Stormy Knight. I would recommend it for those who enjoy mythology and fantasy.
Book Info:

 January 5, 2016 | Lyrical Press | The Knights of Avalon #2
Aspiring screenwriter Gwyn Morland is ready for her big break. That means securing the film rights to elusive author Lady Ruthven's acclaimed novel—which means traveling to Scotland. It's a trip timid Gwyn isn't prepared for, and her fears seem justified when her tour bus careens over a cliff outside of Castle Glenarvon. But the plot thickens when Gwyn is rescued from the brink of death by a handsome and mysterious stranger…
Leith MacQuill is not only the writer behind Lady Ruthven's novel, but a shape-shifting faery knight bearing a tragic curse: the woman he gives his heart to will die. Saving Gwyn proves to be a dangerous choice when he finds himself falling for her the longer she stays in the castle. Not even his usual BDSM role-playing games are enough to thwart the intense desire they feel for each other. But to stay together, Gwyn and Leith must embark on a dangerous mission into Avalon, the realm of the faeries. Will their love be strong enough to conquer the curse? Or will Gwyn's new life be stolen from her before it's even begun?