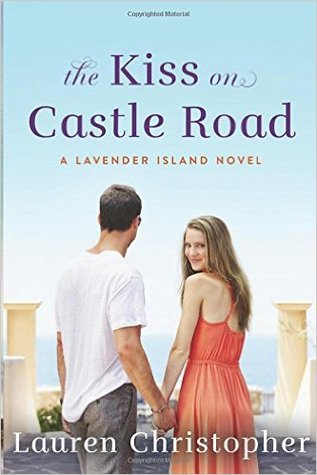 In The Kiss on Castle Road (Lavender Island #1) by Lauren Christopher, taking a much needed break from men and finding herself with no job, Natalie Grant finds herself accepting her sister's offer to come spend time looking after her niece for three months. However, it seems her 'mancation' is going to be put to the test when she meets Elliott Sherman after she and her niece ask him for help in rescuing some sick sea lions.
He choked a little and brought his bottle down. "Is a 'mancation' what I think it is?"
"It depends on what you think it is."
"Sounds like it could be either a vacation to find men or a vacation from men."
"Which do you think?" she asked.
"Well, I doubt you need a vacation to find men, so I'll guess the latter."
Elliott Sherman would rather work than go on the blind dates his sister keeps setting up for him. Besides, it's not as if he's not capable of finding a woman he could have a long-term relationship with. Yet, it seems there's no way of getting out of them without a good excuse. However, each date is more disastrous than the last until Natalie offers him advice on how to succeed at dating. Except, Elliott finds himself falling for the one woman out of his reach.
What a great start to this series for Ms. Christopher, which encompasses the opposites attract trope, a heroine determined to win the bet her sister has proposed, and a hero determined to get the heroine over her fear of commitment. I really liked how this story started, as Natalie's niece seems a bit of a handful; a ball of energy that the heroine is unprepared for. Yet, Natalie is determined to prove that her family can rely on her when they need help.
As for the dialogue, it was engaging and made for a fast-paced story because, of the disastrous dates Elliott finds himself on, and the secondary characters that keep pushing Elliott and Natalie together. Since they think the pair is perfect for each other, and should be giving each other a chance. Really, the secondary characters were a hoot, especially the senior citizens of Lavender Island. Their advice on dating had me laughing at times, especially since they think Elliott is clueless when it comes to women. However, the dialogue was also intense due to the sick sea lions, the fact that Elliott's sister doesn't approve of Natalie, and the heroine's back story. Why is she on a 'mancation'? The moment when she reveals her reason made me feel sorry for her, as it wasn't easy for her to speak about it.
"ARE YOU GOING TO STALK THIS WOMAN?" the Colonel barked at Elliott.
"Of course not. But—"
"Then pick her up at the DOOR. Shows you care that she arrives safely and gets home safely. Plus, it gives you a few extra minutes with her. Kids these days don't even know the beauty of the at-the-door good-night kiss."
I really liked the main characters. Natalie is brave the way she's trying to prove to everyone that she can change. Because the carefree way she's been living, for so long is no longer working for her. On Lavender Island, it seems she's finally found a place she can prove how responsible she can be. First by looking after her niece and then finding a job she doesn't get easily bored by. She's also tenacious in winning the bet, even though it isn't easy as she and Elliott spend more and more time together to see if they can be friends.
"You'd rather work than date?"
He gave a little smile to that. "It's easier to figure out gene sequences than to figure out women."
Natalie smiled back and watched the ocean for a minute. "What exactly do you do, Elliott?"
"I'm a microbiologist," he said. "I study virulence factors in pathogenic bacteria."
Natalie blinked. "And that's easier than dating?"
"Infinitely." The smile grew sexier.
While Elliott, he's the quiet, intellectual type that works hard at everything. He's determined to keep the dating advice he's been given by everyone in mind for when he needs it, knowing it may be useful. That is, if Natalie ever gives him a chance. He's also very brave by going on the dates his sister has organized, considering he is the quiet type. It wasn't easy for him. Yet, Elliott felt he owed his sister for taking care of him over the years after their parent's deaths. However, in saying that, I was glad that he finally confronted her about finding his own women. As it was the only way he was going to have a chance with Natalie.
Overall, I really enjoyed this book where the sex scenes were hot and illustrated the intense chemistry this couple had from the moment they met. Natalie finds it hard to resist Elliott, and vice versa. So, what made this book intriguing was, if temptation would cost Natalie to lose the bet she'd made with her sister. I liked how this story ended with the epilogue, as well as Elliott taking the dating advice to heart and using it to impress Natalie in hopes she'll give him a chance. I would recommend The Kiss on Castle Road by Lauren Christopher, if you enjoy the opposites attract trope.
Book Info:

 January 1st, 2016 | Montlake Romance | Lavender Island #1
Natalie has always been the fun Grant sister: the one with the constantly packed suitcase and the zest for life. But this carefree existence is wearing on her. When her oldest sister, Olivia, invites her to Lavender Island for three months, Natalie jumps at the chance to look after her niece, prove she's not irresponsible, and take a much-needed vacation from men.
Her "mancation" takes an unexpected turn when she spots a group of sick sea lions and calls on microbiologist Elliott Sherman for help. Elliott is everything Natalie is not—quiet, studious, and geeky. Yet there's a simmering sexiness under those glasses that she's quick to notice. And Elliott finds himself taken with her gorgeous free spirit. Despite their chemistry, outside forces threaten to keep them apart—including a secret Natalie has never shared. Can the allure of Lavender Island and its quirky residents open her heart and lead her to lasting love?