To begin with, I absolutely love the cover of Dating The Devil by Lia Romeo! It is ultra contemporary, classy and its sleekness just draws you in. Secondly, this story takes place in New York City, and as a former NYC commuter and dweller, I found the references to city landmarks, street names, etc., most comforting.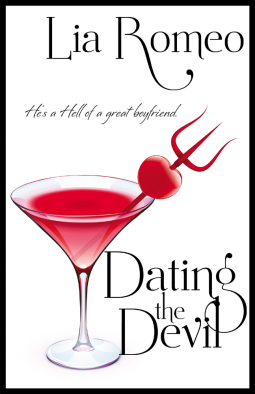 If you are looking for a contemporary romance with a devilish twist, this book is for you! Dating the Devil by Lia Romeo is an emotional, yet sometimes comical view of romance. It is well written and the characters (with one exception) are real and relatable. In all honesty, I was not really into the book at the beginning, however as the storyline unfolded, I began to like it. The author gets an A++ for originality of storyline!
The story focuses on Lucy, a single young woman that works for a boutique Public Relations firm in NYC. She lives with her two best friends from college, Natalie and Melissa, in an upscale apartment in Manhattan. Lucy and Melissa work hard and play hard, while Natalie works a little and parties a lot. These women are looking for love, stability and security. One evening, while on the prowl in a dive bar, Lucy meets her soul-mate, Lewis. Unfortunately for Lucy, Lewis is not what he seems. He is unique and his uniqueness is difficult for Lucy to navigate.
The women learn to love in their own way while maturing in the process. Through various situations, Lucy, Natalie and Melissa create their own destiny.
I will definitely read another book by Lia Romeo.
Book Info
Publisher: Bell Bridge Books (February 14, 2013)
Lucy O'Neill is a plain-Jane New York PR assistant with a tiny apartment, a dead-end job, and a pair of annoyingly perfect roommates. Nothing exciting ever happens to her, until one night at a neighborhood pub . . .Lewis Mephisto is tall, handsome, and hot. Very hot. He meets her gaze through the crowd, a wicked grin on his lips, an irresistible invitation in his eyes.
He's Mr. Right Times Ten. Sophisticated, wealthy, sexy, and completely devoted to her, body and soul. So what's her problem?
Can't she handle dating the Devil?