One Night Scandal by Joanne Rock is the finale to the McNeill Magnates series, about the lives and loves of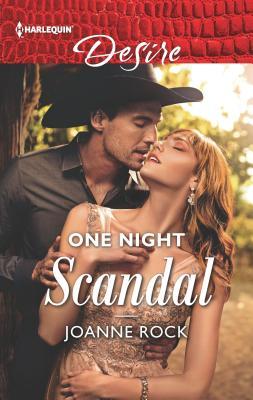 a wealthy family dynasty. Each story in the series has a standalone romance, and this one also wraps up some loose ends and mysteries from some of the previous books.
Brock McNeill can't take his eyes off of Hanna Ryder, the lovely actress filming in the Western movie set on the McNeill ranch lands. One night of passion with her before she knows who he is changes everything and then some, especially when her reaction to finding out his last name means there's more to her presence here than just a film.
But before Brock can confront Hannah he is in an accident that causes temporary amnesia! Hannah is by his side at the hospital but she doesn't tell him that they slept together so that they will have a chance to become friends. Hannah is on a mission of revenge after her sister was assaulted by the man now directing the film (and her reason for joining the crew). There's a link between him and the McNeills, one tied to the mystery of Brock's stepmother's real identity. With all the drama, secrets and revelations, will it bring Brock and Hannah together for a second chance or tear them apart for good?
Whew, there's a lot going on in this story! Amnesia! Scandal! Blackmail! The #MeToo movement! And a romance too! This one may be a challenge to read as a standalone story as there are a lot of characters and answers to previously introduced plot threads. If you plan to read earlier books in the series, you should do so first to minimize spoilers. And if you are caught up to speed you'll enjoy this finale.
Without revealing too much about those mysteries, suffice it to say that they play out well and are interesting and give you some 'oh!' moments. The links between the two families are definitely surprising but it works and I enjoyed how the main mystery is solved.
The romance gets equal page time as the family drama but has a life of its own with the sensual night spent together that stays in the background once Brock gets amnesia. Hannah is keeping some serious secrets, and she has reasons for not revealing to Brock that they'd slept together until much later in the story when they've already become intimate again. Their love scenes are sexy and emotional. But secrets come out, and the fact that Hannah didn't trust Brock enough to tell him about their first night together bothers him greatly, especially being vulnerable with amnesia. Trust is their major source of conflict but in the end they rebuild it and make it strong enough to last. More than one couple gets a happy ending here and it's a fitting end to the series. I've enjoyed reading about this family and I look forward to what the author has coming next.
Book Info:
Publication: Sep 01, 2018 | Harlequin Desire | The McNeill Magnates #9
One night to remember with the perfect cowboy…Or one step toward the perfect revenge?
Nothing in Hannah Ryder's plot included a hot fling with a drop-dead-sexy cowboy. Especially when her cowboy turns out to be Brock McNeill–a potential enemy with ties to the man Hannah wants to destroy. When an accident claims Brock's memory, Hannah is caught in an intricate web of scandal, falling dangerously for the one man she shouldn't trust..