Deceived by Desire by Marie Force is the second book in the Gilded Novel series. This is the first book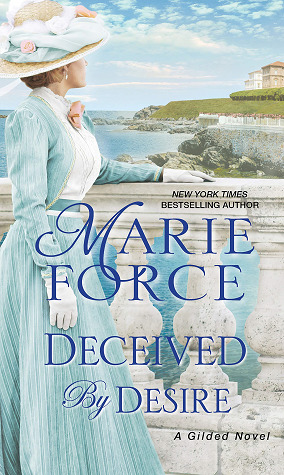 that I have read by this author and I wasn't certain what to expect, but I was pleasantly surprised at how well the book was written and how smooth the pace of the book was. The characters were well developed and the plot was interesting. The setting of the story was Newport, Rhode Island, during the early 1900s. The Author Notes were very interesting and included her family's memories regarding the history during this time frame, since Newport was her hometown.
Aubrey Nelson's family had made their fortune from their business with the railroad industry. They had a summer "cottage" in Newport which was a popular place for the wealthy to go during the summer. Aubrey's friends, which included the Duke and Duchess of Westbrook, were coming to visit for the summer. Due to his father's bad health, Aubrey goes to Newport to ensure the house is ready for the visitors. Mauve just arrived from Ireland and finds a job as the housekeeper to the Nelson's family home in Newport. When she arrives at the house, she discovers all the previous staff had quit after the last summer season and the house was destroyed because they had left all the windows open. There was no other staff there besides the cook and she was worried the house would not be ready for the family when they got there.
Aubrey is enchanted by Mauve when he meets her and allows her to believe he is the new butler. Mauve was horrified once she discovers his true identity since she had repeated rumors she had heard of his mother's treatment of the staff. Aubrey helps with the cleaning and hiring new staff (who were not the typical kind of staff) to help ready the house. When Mauve's past catches up with her, Aubrey marries Mauve to keep her safe. Aubrey knows his mother will be upset when she arrives to Newport because she is wanting him to make a "successful" society marriage. He knows that Mauve will have a hard time finding acceptance from society. During this period of time people did not treat the Irish well and Mauve being the former housekeeper would not help. Aubrey hoped his friends, the Duke and Duchess, will help ease her way. Mauve and Aubrey have many obstacles to overcome to have their happy ending.
This is a book in a series but I felt it was good as a standalone. Some of the characters from the first book do make an appearance in this book but I don't feel like I missed anything because  I didn't read the first book. The history of Newport and that time period is very interesting and I think the author did a great job incorporating it into the book.
Book Info:

Publication: August 27th 2019 | Zebra | Gilded series #2
Wealthy American industrialist Aubrey Nelson has invited the Duke and Duchess of Westbrook to visit his family's Newport seaside "cottage" for the summer. With his parents' departure from New York delayed, Aubrey's mother sends him ahead to oversee preparations for their guests. But when he arrives, he's surprised to find the house and staff in disarray …
With much to do and little time, Aubrey comes to rely on the housekeeper, a lovely young Irish woman named Maeve Brown. And when he also finds himself confiding in Maeve about more personal matters, he tells himself it's merely their close proximity that draws him to the compassionate, hard-working beauty. Yet when he suspects Maeve is in danger, Aubrey realizes his feelings for her have grown much deeper than they should have. For what will his mother, who dreams of a society match for her only son, have to say when she arrives to discover he's lost his heart to a girl of the working class?