Depth Charge: Mercy, Monroe, by Brindle Chase, is an engaging short story. Australian ex-military man Rick Weaver is an expert diver and investigator. The company he works for, Treasure Chest Incorporated, or TCI, recovers wreckages from the sea. The equipment and man power used to do this kind of work is extremely costly, but once the wreckage is recovered, it is sold for thousands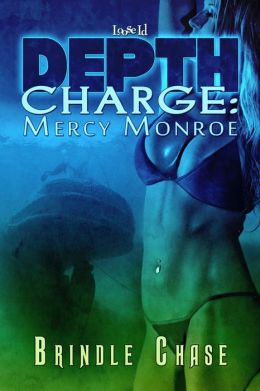 of dollars. TCI truly wants to save the planet, however the environmental protesters don't see it that way.
Gorgeous, environmental activist Monroe Dawson is an American graduate student researching her marine biology dissertation in Queensland. She is a firm believer in saving the planet and will do everything and anything to ensure that all the creatures of the sea have a secure place to live. Monroe has discovered that TCI's recovery effort is destroying a sea urchin that has already been declared as extinct. So after making a ton of phone calls to draw attention to this injustice with no results, she takes matters into her own hands and begins to slowly highjack the equipment needed in the salvage process. Rick's job is to catch the thief.
There is an instant chemistry when Monroe and Rick see each other for the first time on the mainland, which after a bizarre series of events, evolves into hot, passionate love. Monroe is the sabotager and she is at Rick's mercy. Luckily, Rick is a smart man and pulls some strings to find out the truth along with preventing Monroe from being prosecuted.
After reading the book and Afterword, it is interesting to know that the author created the romance between the two main characters from information which is known about a Japanese submarine that was destroyed in 1942.
I found the shower scene in the beginning of the book to be over the top, and not in a good way. The love scenes are hot and steamy, but too numerous in quantity in comparison to the plot. Overall this novella is well written and flows at a nice pace from beginning to end.
Book Info

Publisher: Loose Id LLC (August 5, 2013)
When Rick corners the thief he's been hired to capture, she turns out to be a gorgeous sheila who puts his resolve to avoid women with agendas to the test. His brain screams for him to run, but the saboteur's fiery, uncompromising temper and unique beauty intrigue and excite him like never before.
Monroe Dawson has spent her entire adult life proving herself to the world. Her abusive father and emotionally cruel stepfather have made her swear off men in the military. But when she's captured by a sexy Australian ex-commando, the attraction is immediate and volcanic.
Monroe will do anything to save the near-extinct sea urchins that live in the wreckage Rick was hired to protect. Rick's duty comes first, but he can't help but be swayed by the American activist's case. Can he champion her cause and sort through this mess with his heart, his job, and his honor intact?