Undertow by Leigh Talbert Moore: This story follows Anna and Julian's continued romance and yet so much more. I really loved the reading of the three journals that were from all different people, and seeing how Anna reacted to the contents.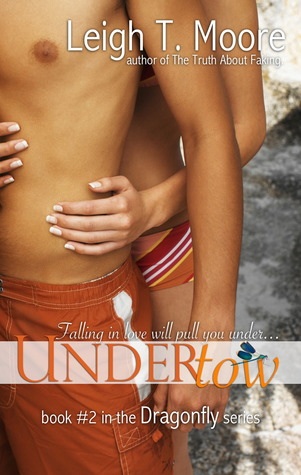 It made for a great story, and I personally love the drama within the pages of those journals. But not all of the plot was as great. Some of the characters story lines were a little slow for my taste, and just seeing thing progress the slightest bit quicker would have really improved the story.
I must admit "Undertow" didn't make as much sense as it would have if I had read the previous book in the series, "Dragonfly". Though I did get enough enjoyment out of this book to want to read book 1.
But overall If you are new to the Dragonfly series I would fully suggest you start from the beginning of the series. You will get much more enjoyment out of these characters relationship by doing so.
I was impressed by Ms. Leigh Talbert Moore's writing style and I am quite looking forward to reading more of her books!
Book Info:

Published July 18th 2013 by Leigh Talbert Moore
Falling in love will pull you under…
Bill Kyser has a plan to take the sandy farms of his hometown and turn them into a world-class tourist destination–and become a billionaire in the process.
Alexandra "Lexy" LaSalle has a plan to change her life by becoming a world-famous artist.
Meg Weaver has a plan to hold onto Bill no matter what she has to do.
Three friends, three dreams.
One fatal decision will change all their lives forever.
In Dragonfly, Bill Kyser gave Anna the three journals that held the story behind the powerful developer's seclusion and the damaged lives of his family members.
Anna hoped to find a way for Julian to know the truth, but as she digs deeper into the tragic events of the past, she realizes silence could be the only option.
Now she's in an alliance with the man she formerly feared. And if Julian finds out what she knows, she could lose for good the boy she's starting to love.