Devoted to Love by Shayla Black: For Josiah, attending this wedding is just a break before he reports for his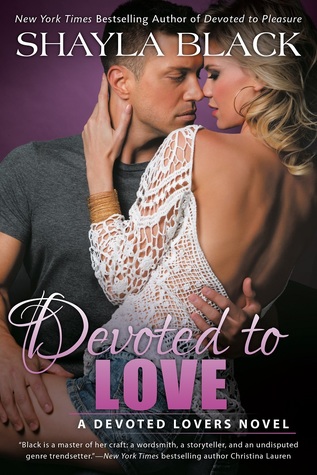 next assignment. He enjoys his work and co-workers, for the most part, and that's good enough for him. He's definitely not in the market for a relationship, commitment, or love after an engagement ended badly. He's smart, loyal, protective, and does what he needs to get the job done.
Maggie is thrilled for her sister to have found the one for her, but she doesn't expect that she'll get so lucky. Maggie has become an expert in protecting herself and she doesn't get close to anyone outside her sister and grandparents. After getting out of an engagement, she's not looking for a relationship.
It's lust at first sight when Josiah and Maggie meet. There's an instant connection that both want to explore…within the bounds of a one-night stand. Both are clear on what they want, until they get it and realize one night isn't enough. It doesn't hurt that Josiah has the excuse to stick around for a bit that to help out Maggie and her grandparents.
"Are you always this bossy?"
"Yes. Do you always ask this many questions?"
She hesitated. "I guess I do."
It's good and bad that Josiah quickly realizes that getting to the bottom of harassing neighbors will require him to stick around for a little longer. He quickly realizes that he definitely wants more with Maggie and he's quite persuasive. They clash as Josiah is an alpha while Maggie is used to calling the shots…in and out of the bedroom. He pays attention and gives her what she needs while she challenges him. As Josiah and Maggie get closer, the body count goes up and the danger closes in on them.
"You are a stubborn woman."
She'd heard that before. "I have to keep my grandparents and this land safe. So you're stuck with me."
His sigh told her that he wasn't happy, but he knew he didn't have a choice. He could hardly kick her off her own land. "Fine. But there are rules. The first is that when I tell you to do something, you f***ing do it."
Devoted to Love is sexy, thrilling, entertaining, and surprising as a one-night stand turns into a battle of wills. Shayla Black delivered another sexy suspense with badass alpha males and sexy, independent heroines. Ms. Black continued to build this world by developing the characters, relationships, families, and conflicts. Devoted to Love can be read as a standalone in the Devoted Lovers series. Fans of Lexi Blake and Roni Loren will enjoy Devoted to Love.
Book Info:

Publication: July 2nd 2019 | Berkley | Devoted Lovers #2
He was sent to guard her body… he didn't expect her to steal his heart.
Her sister's wedding was hardly the place to find a hook up, but after one look at friend-of-the-groom and special operative Josiah Grant, small-town Texas beauty Magnolia West immediately fell in lust. After a stunningly sensual night together, Maggie is prepared for the two of them to go their separate ways. After all, she's not a happily-ever-after kind of girl. But Josiah—and danger—change her plans.
Josiah isn't looking for love…but Maggie rouses his body and stirs his heart like no other woman. She's got a rocky romantic past, and a smart man would steer clear. But when the murder quotient in Kendall County rises and all signs point to a mysterious group nearby who have been harassing Maggie's family, he can't leave her unprotected—especially when he realizes he's fallen hard for her.
As tension mounts and the menace closes in, Josiah will do anything to prove to Maggie that their love is real…but can they stay alive long enough to share it?