In From Midwife to Mommy by Deanne Anders, Trent Montgomery is determined to protect his brother's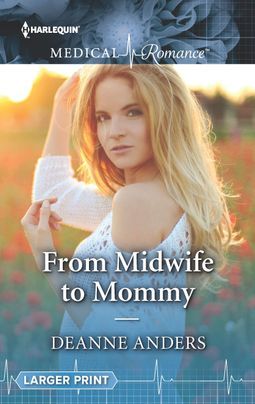 child from becoming a pawn for his powerful father. However, he never imagined he'd have to compete with midwife Lana Sanders for right to custody. Still, he'll do anything to win. Yet, the more he gets to know Lana, the more he realizes his niece would be in good hands with her. Will Trent give up his rights in order for Lana to get her chance at being a mother or will he lose the woman he loves because he wants his niece in his life?
'I'm sorry, Lana. I know my coming into your life like this has to be a nightmare," Trent said. "I bet you wish I'd get on the first place out of town."
"I was thinking more like you would ride off into the sunset, Cowboy." He watched as a small twitch played at the corner of her mouth, then she looked down at her hands, which were tangled in the napkin in her lap. "I can't say what I would do if I found out my brother had a kid out there I hadn't been told about, but that doesn't make the position you've put me in any easier. Haven't you wondered why Maggie picked me to give Chloe to?" Lana asked.
What an utterly captivating, fast-paced, memorable read Ms. Anders has delivered in this book where the chemistry between this couple is off-the-charts because they're enemies that eventually fall in love; the dialogue was entertaining and had me hooked from the very beginning and even more so once the hero and heroine come face-to-face; and the main characters have such interesting back stories that made me want to get to know more about them and which had me reading quickly determined to discover whether the heroine would give Trent a chance since he's a threat to what may be her only chance to be a mother.
With the main characters, I was absolutely charmed by the hero and loved every decision he made throughout this story. He cares about the heroine and would do anything to make the situation better for her. Will his niece be better off without Trent in her life? Will the heroine be able to keep his niece safe from Trent's father? Will Trent be able to make Lana see why he's so determined to protect his niece? Then again, he does have an ulterior motive and believes going for custody of his niece is the right thing to do. Since he's felt such guilt in having been unable to protect his brother from his father and there's no way he's going to allow the little girl to suffer the same fate as his brother or be used as a pawn simply for power.
"What is it? What do you mean you don't trust yourself?" he asked, his voice now calm and caring. "I would trust you with anything."
"Anything?" she asked, her heart stuttering as she took the biggest risk she'd ever taken. "Would you trust me with your heart?"
"What?" he asked as he pulled his hands from hers.
"I don't want to settle for a fake marriage, Trent. I want a real marriage. A marriage like my parents', where you plan to grow old together, a marriage filled with love and respect."
As for the heroine, she's strong, brave and I loved her determination to fight for what she wants and what she wants is custody. Really, she doesn't give up without a fight and she's determined to show the hero that his niece will be well loved with her. I also liked that the heroine took a chance on Trent, even though she hasn't had the best of luck with relationships and Trent isn't interested in relationships after everything he witnessed between his parents while growing up. Will the hero realize that he loves Lana before it's too late?
Overall, Ms. Anders has delivered a superb read in this book where the ending had me loving the decisions these two make because they're made for each other and shouldn't let anything keep them apart. Then again, the little girl needs a mother and a father and there's no one better than Trent and Lana. However, it was the epilogue that wrapped this story up perfectly, as dreams do come true. I would recommend From Midwife to Mommy by Deanne Anders, if you enjoy medical romances, the enemy to lovers trope or books by authors Amy Ruttan, Lucy Ryder, Ann McIntosh and Alison Roberts.
Book Info:

Publication: June 1st, 2019 | Harlequin Medical |
The family she's always wanted…with the man she doesn't expect!
Midwife Lana Sanders is about to adopt little Maggie, and gain the family she never thought she'd have, when pediatrician Trent Montgomery arrives claiming to be Maggie's uncle! Lana won't give up without a fight, but resisting the tempting Texan is her greatest battle. They work well together in the delivery room and sparks fly in the bedroom, but can Lana trust Trent with her heart?