Dirty Duet by Cari Quinn and Taryn Elliott is book three in the Found In Oblivion series, but can be read as a standalone. For those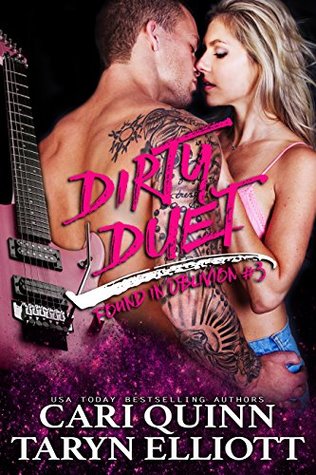 who are familiar with this series, this is West's story and it's a good one!
West Reynolds is the keyboardist in the bad Warning Sign. At his concert, he sees a sexy woman who immediately captures his attention and invites her on stage and then decides to take her to the back. Only to find out, that she is the same woman who's not allowed within so many feet of the band. This only intrigues West more and he decides to take her back to the bus with him.
Lauren Bryant is a psychology student and is doing research on rockstars and groupies. She's turned herself into a groupie for the sake of research, but it's clear that she loves the music and the environment. Not to mention, the men in the band are hot, especially West. When West invites her to travel for a couple of days with the band, it's only the beginning of a new life for her.
Before West, Lauren considered herself passionless. But West clearly knows what he's doing and before she knows it, she's finally finding out the female orgasm isn't a myth.
"Were you about to dirty talk me?"
"I think any guy who tried to use dirt talk on you would probably end up in therapy."
The banter between Lauren and West is so freaking entertaining. Lauren says whatever is on her mind and really has no filter. She's definitely different than the other women West comes across and he can't get enough of her. The attraction between the two of them is instant and before they know it, they are in deep. But will the memories West is carrying around stop them from becoming something more tangible?
I loved both Lauren and West. Both were amazing characters and very fun. Highly recommend to those who love contemporary rock romances!

Book Info:

Publication: February 17th 2017 | Rainbow Rage Publishing | Found in Oblivion #3
He's the wildest guy in his band, but falling for a virgin groupie-in-disguise might be his craziest move yet.
Keyboardist West Reynolds's idea of commitment? Going out for breakfast with a woman after a night of bed-breaking action. The only thing he gets serious about is Warning Sign, the band he formed with his two best friends. Then he meets a woman being hauled off by security, and she's fascinated by him.
To her, he's a subject to study. Like a bug under a microscope with a big…head.
Lauren Bryant is a student of psychology, and now she's going in depth on rockstars. Specifically, fans. What makes a woman turn into a lust-driven groupie?
Is it the music?
The fame?
The men?
She isn't sure, but she never expected to get her own night with a rockstar. One where he's on top, doing some studying of his own…
She isn't sure, but she never expected to get her own night with a rockstar. And she just figured out the ultimate way to get inside a subject is to let the subject inside you…