Dirty Games by HelenKay Dimon is the second story in her LGBTQ romantic suspense series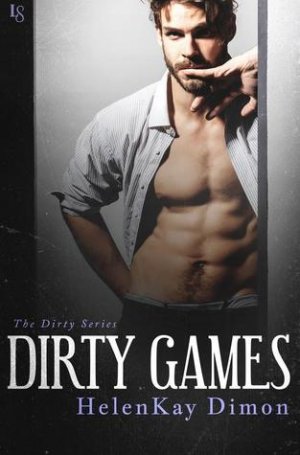 Dirty. It"s a fast paced and action packed story with a sexy romance between two acquaintances who find themselves looking for more.
Finn Drummond, the youngest of the Drummond siblings has had to work hard to make a name for himself. He's decided that the charity arm of the company is where he wants to make his mark, and sets out for Morocco, and a refugee camp that they fund. There have been some missing deliveries recently, and the camp leader, Justin Miller has put in a request for help. Finn's determined to help discover what's going on behind the scenes.
Justin had been expecting Finn's older brother Alec to show up, not the sexy, handsome man he's had an inconvenient crush on for years. When he first met Finn, Finn had a girlfriend and Justin had slotted him in the 'not available' category, believing he was straight. As it turns out, Finn is bisexual, as evidenced by his not so concealed mutual attraction to Justin. Justin and Finn begin a heated affair, one that they have to keep under the radar due to laws in Morocco against homosexual activity, not to mention that Finn is technically Justin's boss. But when accidents keep happening around Finn and his life appears to be in danger, will it draw them closer or push them apart for good?
I've been a fan of HelenKay Dimon's romantic suspense novels for a few years now (I'm particularly fond of the Holton Woods series) so I always look forward to reading a new release from her. This one has a particularly current storyline, with a relief camp for refugees in Morocco on the border with Spain's autonomous city Cueta dealing with a humanitarian crisis. The setting is well described, including trips in the local countryside to Tangier, and what life is like in the camp. Finn is there to investigate missing food and aid shipments, ones believed to be stolen and traded for arms shipments. Determining who is responsible and why is the focus of much of the story with Justin and Finn constantly finding themselves in danger as they get closer to the perpetrators.
While the action plot moves along swiftly, I didn't find the romance between Finn and Justin to be as compelling as I'd hoped. I really enjoyed Finn's character in the first in the series, Dirty Deeds, but I didn't find a lot of chemistry between him and Justin here. Justin is reluctant to share his real feelings about Finn with him, and while there are some steamy sex scenes, I wasn't as sold on them as a couple. Still, I was glad to see them get their happy for now ending (as much as can be had in a country where their relationship is forbidden) and the action kept me turning the pages. While this one isn't my favorite, HelenKay Dimon remains one of my go-to authors for romantic suspense and I'm hoping there will be a story for Griff Drummond in the not too distant future.
Book Info:

Publication: Mar 20, 2018 | Loveswept | Dirty #2
Sometimes, to get what you want in business or in love, you have to get your hands dirty. Luckily for Finn and Justin, dirty comes naturally.
Finn Drummond is the baby in a family of sharks—which means he's worked twice as hard to make a name for himself. After learning the tricks of the trade from his brothers, Finn's just as ruthless and dominant. Out in the field, his appetites are legendary: for success, for money, for women and men. But when supplies from Drummond Charities go missing, Finn has to partner up with the smoldering ex–Army grunt who's always challenging his authority—or giving him mixed signals.
Justin Miller wanted his attraction to Finn to be mutual, but the cocky brat always had a girlfriend. Who could blame Justin for trying to move on? Despite their history, they've got to work together to figure out who's been derailing their humanitarian work. But after Justin and Finn are thrown together against gunrunners and kidnappers, their simmering chemistry turns explosive. Turns out, Finn knows how to handle himself in a crisis—and in the sack. Justin only hopes that hot sex is enough to persuade this spoiled pretty boy to do the right thing.