Do Not Open 'Til Christmas by Sierra Donovan: Bret's dreams of being a hard-hitting journalist ended the day his mother died, which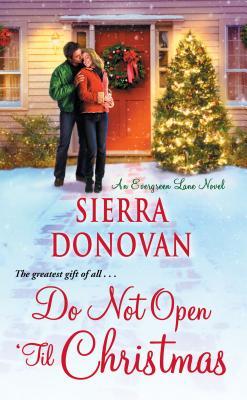 forced him to stay in his small town and take care of his heartbroken father. His mother's death during Christmastime is also the reason he can't stand the season.
But with the entrance of new reporter Chloe on the staff, Bret's whole attitude is about to take a turn. Chloe has been freelance for the paper for a while now, but freelance was nothing compared to full-time – especially when the interim editor-in-chief is a hard-ass intent on making her prove herself.
Tensions rise between Bret and Chloe, but neither will jump head first into anything more than coworkers, even though the chemistry burns hot. Bret doesn't know how to let anyone in, let alone shift his attentions from his father and work. And Chloe needs to be respected; she refuses to be the one who slept with her boss.
I highly enjoyed most of this story. It was not an easy romance. Both were unwilling to take that step, despite both wanting to, and the tension definitely grew. However, it went on too long like that. At a certain point, I become bored because not enough is happening. The fighting and resistance can onlu go on so long and hold my attention.
Even so, I loved both Chloe and Bret. Chloe was a mix of badass and sweetheart with a penchant for fluffy, Christmas stories. And Bret was near impossible (in the best type of way). Damaged and heartbroken from the damage to his family, he needed Chloe's soft touch.
For those who love the wait, I recommend Do Not Open 'Til Christmas by Sierra Donovan. While I could've used more time with them together, it felt so good when they finally opened up to one another.

Book Info:

Publication: September 26, 2017 | Zebra | Evergreen Lane #3
What happens when a Scrooge-like boss and a determined young woman have to work together during the holidays? A Christmas of surprises . . .
Bret Radner once dreamed of being a hard-hitting journalist, exposing corruption and writing Pulitzer-winning pieces. But heart-tugging circumstances kept him at the Tall Pine Gazette, where small town life, new neighbors, and human interest stories are the news. In charge for the entire holiday season, Bret is determined to run the newsroom right. Yet with a too-pretty rookie reporter to train, he finds himself challenged on just about everything . . .
A waitress at the Pine 'n' Dine restaurant, freelance reporter Chloe Davenport finally gets her big chance to work full-time for the Gazette. But proving herself to her handsome boss won't be easy. He turns down all her holiday-themed stories and, in fact, doesn't seem to like Christmas at all. Yet the closer Chloe works with Bret, the more she realizes that his tough exterior conceals a hidden hurt . . . and a heart she wants to fill with glad tidings of great joy–for many seasons to come . . .