Double Dare by Taryn Elliott is the second installment in the Dare to Love novella series from Kindle Worlds.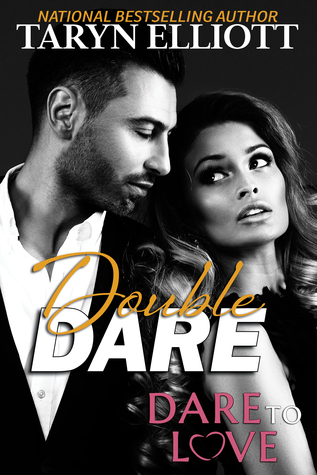 Author Carly Phillips developed the "Dare" family and each novella created under the Dare to Love umbrella, uses some of the characters and/or settings from her original, ongoing series.
This fun and sexy read is about jewelry designer Presley Warren and programming guru Vance O'Neal. Presley is on the cusp of getting her high-end jewelry designs noticed by celebrities and luxury boutiques. Vance has already achieved millionaire status and is looking to help small businesses grow while finally settling down. Presley and Vance make a pretty good team, both in and out of the bedroom.
I loved the opening of this novella. Presley and Vance meet at a pro football game. Presley is on the blind date from hell and Vance is hanging out with his buddies. They hook-up after sharing a very public passionate kiss, due to the Kiss Cam singling them out. Presley and Vance have smoldering chemistry, which leads them into more than just one night together. Vance uses his intelligence and wealth to give Presley the push she needs to have the future of her dreams. Presley's business sense, kindness and devotion to her family, is what truly keeps Vance interested.
Ms. Elliott nicely combines an interesting plot with hot, sexy scenes. The first chapter sets the upbeat tone of this fun and intoxicating novella. I really enjoy reading about strong heroines and Presley definitely fits the bill. Vance is an all around good guy and his acts of kindness left me with a smile on my face long after I finished the story.
Overall, Double Dare by Taryn Elliott is a well-written novella and a wonderful addition to the series.
Book Info:

Published March 24th 2015 by Kindle Worlds | Dare to Love
A blind date from hell turns into a dare that changes everything.
Jewelry designer Presley Warren is sick of spending every single night alone. The crushing weight of running her family's business leaves little time for the designing she loves. It's no surprise that dating is last on her to-do list. In a moment of weakness she agrees to let her best friend set her up.
In a funk, millionaire Vance O'Neal is dragged to the first home game of the season for the Miami Thunder. He literally runs into a gorgeous blond as soon as he walks into the stadium. She's light and laughter and the first woman to pull at him in years. One problem—she's already taken. In a twist of fate, he's seated next to Presley at the game. Her date shows his true colors as a rude, self-involved jerk so Vance can't help himself when the Halftime Kiss Cam pans onto them. He dares her to kiss him—in fact, he double dares her to take a chance on a stranger.
He's convinced her to start with one night—now he wants a shot at forever.