In The Day We Met by Rowan Coleman, Schoolteacher Claire Armstrong has always been full of life, curiosity, and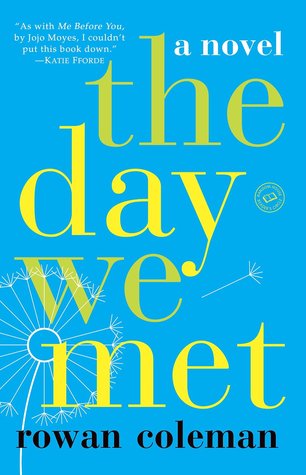 a love for her two daughters that cannot be matched. Well, maybe only by the love she feels for her wonderful husband Greg. But as she begins to forget the small things and her confusion grows week after week, Claire discovers she has a debilitating disease. One that will steal her mind, alter her daily activities, and ultimately cause her to lose those she holds dearest in her life.
'I know he is the last great love of my life, but I don't feel it anymore. Somehow Greg is the first thing I am losing.'
Claire fears her three-year-old daughter Esther will not remember her. So she's grateful when Greg brings home a memory book for them all to jot down precious memories and in which to leave treasured mementos. The family struggles day to day, with her mother Ruth acting as caregiver, and her oldest daughter Caitlin getting ready to return to college. But as Claire has fewer lucid moments, she finds herself pushing away her beloved husband and trying to figure out why Caitlin is acting so remote. She hopes fervently that her heartbroken family will be able to carry on and shine when she loses her final thread of reality.
'Everything I attempt is fraught with the possibility of failure. And yet I am still me, at the moment. My mind is still me. When will the day come that I am not me anymore?'
The Day We Met took me on an emotional roller coaster ride while I commiserated along with Claire, Greg, Ruth, and Caitlin. They all had to come to terms with the devastating disease that was overtaking a fiercely independent and brilliant woman in the prime of her life.
"I think it's love that lasts. It's love that remembers us. It's love that is left, when we are gone."
Originally titled The Memory Book and released in the UK in 2014, I thought author Rowan Coleman did a fantastic job of giving us readers an honest take on how Alzheimer's Disease affects families. This is a novel filled with extreme highs and lows, in terms of emotions and events. There were scenes that took my breath away with their beauty and poignancy, and then there were awkward, heartbreaking scenes that made me sad and almost uncomfortable with their realism. But through it all, giving us the points of view of four major characters was the perfect way to explain what change the disease made in their lives and how they coped with it.
One of the things that really moved me was Claire's bravery. She took advantage of her lucid moments to make sure her daughters, her mother, and her husband all knew how much she loved them and to encourage them to stick together as a family. And to live their lives to the fullest. She reminded them that love was what mattered in the end. (And rightly so!) Claire and her youngest daughter Esther made me giggle and smile many times while reading. They were partners in crime whenever Claire wanted to do something she wasn't supposed to anymore. I thought it showed that even as her memory was fading and she couldn't figure out the world as she once did, there was still joy to be found and fun to be had.
One of the more difficult parts for me as a reader was Claire forgetting her husband Greg. That just broke my heart. I won't go into details, but it was a very sad situation that unfortunately rings true for a lot of people fighting this disease. I thought Ms. Coleman wrote those scenes with the perfect amount of detail to show how raw and utterly miserable both Claire and Greg felt at the time. Don't get me wrong…there were some absolutely lovely scenes between them. One of which being when Greg gave her the memory book and he wrote down some beloved moments from their past. His devotion to his ailing wife was strong and true, showing us how much love can endure.
If you're not afraid to explore a story with both the upbeat and downtrodden moments of one loving family's struggle, I think The Day We Met will hold your heart through to the final page.
Book Info:

Publication: March 31st 2015 by Ballantine Books
For fans of Jojo Moyes's Me Before You comes a beautifully written, heartwarming novel about mothers and daughters, husbands and wives. The Day We Met asks: Can you love someone you don't remember falling in love with?
A gorgeous husband, two beautiful children, a job she loves—Claire's got it all. And then some. But lately, her mother hovers more than a helicopter, her husband Greg seems like a stranger, and her kids are like characters in a movie. Three-year-old Esther's growing up in the blink of an eye, and twenty-year-old Caitlin, with her jet-black hair and clothes to match, looks like she's about to join a punk band—and seems to be hiding something. Most concerning, however, is the fact that Claire is losing her memory, including that of the day she met Greg.
When Claire meets a handsome stranger on a rainy day, she starts to wonder if Greg still belongs in her life. She knows she should love him, but she can't always remember why. When Greg gives her a blank book, Claire fills its pages with private memories and keepsakes, jotting down beginnings and endings and everything in between. The book becomes the story of Claire—her passions, her sorrows, her joys, her adventures in a life that refuses to surrender to a fate worse than dying: disappearing.