In Dream Maker (Dream Team #1) by Kristen Ashley, Relationships of any kind have never been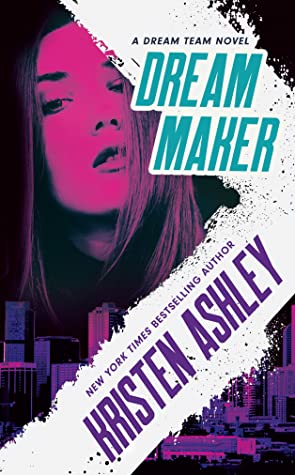 Evie's strong suit. Computers and anything tech related is more her speed. Sadly, her family has shown her the darker side of trying to be there for the ones you love. And she hasn't had any meaningful friendships aside from casual acquaintances. That all changed when Evie began working at Smithie's as a dancer and met Lottie, Ryn, Pepper, and Hattie. And then she meets Daniel "Mag" Magnusson through a blind date Lottie sets up. The gorgeous commando guy is not Evie's normal type. But there's some strong chemistry between them that she just can't resist. Even when she knows letting Mag into her crazy life is the last thing he needs.
'I needed to figure myself out.
I needed to sort out my life.
What I didn't need to do was drag a nice guy like Daniel Magnusson along for that ride.
My body had other thoughts.'
Mag isn't sure what to think about Evie when they meet up for their date. She's geeky in an adorable way. She's not the most graceful, leaving him to wonder how she does on stage at Smithie's. And her life is getting more and more dangerous and complicated by the moment, thanks to her deadbeat family. Mag can't stand to see a woman in distress. Knowing that it's hot as hell, kindhearted Evie that's in trouble? Yeah, not happening. He'll call on every marker he has and use the help of the Rock Chicks as well as Hawk's team to keep her safe. Even if it means facing down his own past and the PTSD that comes along with it, Mag has the feeling that Evie being in his life is exactly what he–and she–needs.
'His eyes moved over her face thinking that he already knew he could fall in love with this woman.
What he was figuring out was he was about to head into free fall.
And he was not going to reach out a hand to grab hold of anything.
It was coming clear he was good to just…
Drop.'
A brand new Kristen Ashley series? Yes, please! Dream Maker kicked things off with a roar and pulled in all the elements I love from KA books: awesome friendships, real (and really funny) dialogue, suspense with lots of shenanigans thrown in, and of course killer-hot romance.
"All my life, you know?"
"All your life what, baby?"
"Until you."
He curved both arms around me and his voice was growly when he asked, "Until me, what?"
"The people I loved made loving them hard. Until you."
I swear I'm never as happy as when I'm in the middle of one of Kristen Ashley's books. And not only did we get introduced to a bunch of new kickass characters in Dream Maker, but there were some amazing cameos from both the Rock Chick and Dream Man series. (Right?!) But it was our main characters, Evie and Mag, who definitely stole the show and kept me glued to the pages.
It hurts me to say it but I was kind of on the fence about Evie at first. She made a decision based on her life experience up to that point and treated Mag in a decidedly *not* cool way. But Evie more than redeemed herself as things went on. And learning about her (horrible) family and what she had been through made me like her to the point that I cheered her on to not only succeed in life, but to win Mag's heart as well.
I loved that Evie was basically a computer/tech geek and wasn't ashamed of it. She was klutzy. She was an awesome cook. And she was someone you definitely wanted on your side as she would go to battle for those she loved. And all of that is what made Mag fall for Evie so quickly.
Mag was definitely a KA alpha-hot-bunch-type of guy. He wasn't quite as possessive or bossy as some guys have been but he still did everything he could to keep Evie safe–and to let her know she was worth all the fuss. Mag had been through some tough stuff and had seen things overseas in the service that haunted him. It made him truly appreciate Evie as well as their intense connection. Which was SO sigh-worthy. And adorable enough to make me giggle with their bantering and teasing. Didn't hurt that Mag hung out with his coworkers, a sexy bunch of guys who weren't afraid to step in to help or to give him a hard time when warranted. (lol) We'll be seeing Boone, Auggie, and Axl soon in upcoming books.
I can honestly say I've fallen in love with yet another Kristen Ashley series and an incredible bunch of characters with Dream Maker. How she'll top Mag and Evie's romance remains to be seen, but I have confidence KA will rock Ryn and Boone's story.
Book Info:

Publication: Published May 26th 2020 | Forever | Dream Team #1
From the New York Times bestselling author of the Dream Man and Rock Chick series comes a brand new story about love, friendship, and the bonds of sisterhood.
Evie is a bonafide nerd and a hyper-intelligent chick who has worked her whole life to get what she wants. Growing up, she had no support from her family and has only ever been able to rely on herself. So when Evie decides she wants to earn her engineering degree, she realizes she needs to take an alternative path to get there. She takes a job dancing at Smithie's club thinking this would be a quick side gig, where she can make the money she needs. But with her lack of dancing skills and an alpha bad boy who becomes overly protective, Evie realizes this might not be as easy as she thought.
Daniel "Mag" Magnusson knows a thing or two about pain, but the mask he wears is excellent. No one can tell that this good-looking, quick-witted, and roguish guy has deep-seated issues. Mag puts on a funny-guy routine so he can hide his broken heart and PTSD. But when Evie dances her way into Mag's life, he realizes that he needs to come face-to-face with the demons of his past if he wants a future with her.