The Mistletoe Trap by Cindi Madsen: After sustaining a possible career ending shoulder injury,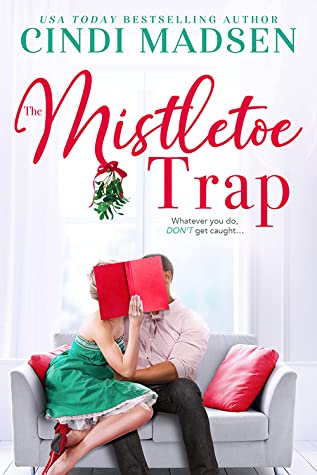 professional football player Gavin finds himself heading to Colorado to unwind and rest his shoulder while spending the Christmas break with his family and best friend Julie. Julie and Gavin have been best friends from way back when they were in diapers and best friends have all they have ever been, much to their parents disappointment. Tired of having these two oblivious to what an amazing couple they could be the two sets of crafty parents set into motion a reverse parent trap scheme to help push Gavin and Julie into seeing what is right in front of them.
"We've just been waiting for this moment for twenty-six years,"
Pure perfection all wrapped up in a cute Christmas bow! That is exactly what this friends to lovers, sports romance was, with the added spice of meddlesome parents. I absolutely loved that Gavin and Julie had such a strong and realistic friendship even before things turned into more. This truly was a slow burn romance, we didn't get to see much romantic progress until about half way through the book, but boy was it worth the wait. It was so cute watching these two find their way from friends to lovers.
"That dimple in her right cheek was seriously going to kill him. Her red lips were like the line of an exclamation point, and that indention was the accent."
For me personally I find that secondly characters can add so much more dimension to a book and The Mistletoe Trap had the perfect mix of the meddlesome family and Gavin's teammates. But really I loved Julie's cat, also what a hilarious name! I absolutely loved how wacky and awkward Julie was but it was Gavin that stole my heart with his swoony moves and charming sweet guy disposition.
I would most definitely recommend adding The Mistletoe Trap to your holiday TBR this book was the perfect combination of Hallmark movie meets the Parent trap all tied together with a steamy romance.
Book Info:

Publication: November 16th 2020 | Entangled Publishing (Amara) | Heart in the Game #2
From the moment Julie sees her best friend, Gavin, in the airport, it's like no time at all has gone by instead of months and months. No matter how long they've been apart, their relationship has always been steady, comfortable, and decidedly just friends. Even though their meddling parents have hung what seems like unlimited amounts of mistletoe everywhere she goes this holiday season, Julie knows some things will never change.
Gavin is well-aware his family's wanted him and Julie to get together since forever, even though he's been friend-zoned since they could talk—and he's been happy to play that role. After all, as the new starting quarterback for the San Antonio Mustangs, he's got enough on his plate without adding romance to the mix.
But between playing elves in the holiday bazaar to nights spent one-on-one watching rom-coms or soaking in their town's hot springs, suddenly the "reverse parent trap" they've fallen into is actually starting to work. But this could be one scheme where letting themselves get trapped might be way too dangerous.