A Heartfelt Christmas Promise by Nancy Naigle is a magical Christmas romance. No Scrooges in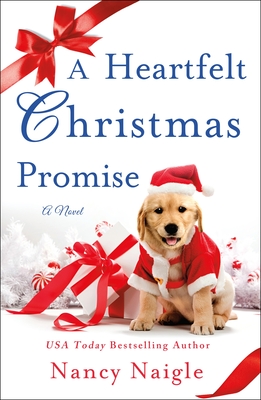 the town of Fraser Hills, NC. Just lots of Christmas fun and joy!
Vanessa Larkin is all set to spend Christmas in Paris, France. Sure she'd be there on assignment. But still… Paris! She was excited to think that she and her mom's cousin Anna would spend the holiday together there. Edward Grayson, her boss, had a change of plans for her though. He is sending her to Fraser Hills, NC to close down the fruitcake factory there and set up a warehouse for a sporting goods company in its place. Vanessa had done this sort of job many times yet this time she felt a little twinge of guilt to be bringing this bad news to Fraser Hills just before Christmas.
Vanessa was pleasantly surprised when she arrived in town. It's such a friendly town. The residents weren't real happy to see her there though. Pesky rumors! A corporate visit sounded ominous to them. After viewing the two large factory buildings and discovering the fruitcake business was confined to a smaller building Vanessa started planning around her corporate mandate. She knew she could come up with a solution that would make the townsfolk happy. And maybe the guy she first saw at the beginning of her trip would look at her with a smile. The guy driving the sleigh pulled by eight beautiful Percheron horses. Mike Marshall. That guy.
Mike Marshall is a single dad raising his sixteen-year-old daughter Misty as best he can. It would be great for Misty to have a mother's love helping guide her but his beloved wife Olivia died years ago. No woman has caught his eye since Olivia's death until the corporate rep, Vanessa Larkin came to town. Mike didn't know what Vanessa's presence in Fraser Hills meant to the town but he couldn't resist spending time with her. He knew Vanessa planned to return to Chicago when her business in town was finished but he could dream about a different outcome, couldn't he?
Ms. Naigle's imagination always brings magic to her Christmas romance stories. She never disappoints. Reading this story is guaranteed to spread Christmas joy. The town of Fraser Hills has so many wonderful Christmas traditions such as a lively Christmas parade and special tree lighting ceremony outside the local hospital. I love how heartwarming this storyline is. I smiled so much while reading this story. All the characters are so realistic and likable I'd like them all as friends and neighbors. This is such a lovely Christmas romance. And that cute puppy on the cover is Scooter and his antics will melt your heart.

Book Info:

Publication: September 29th 2020 | St. Martin's Griffin |
A perfect gift that captures the spirit of the season, USA Today bestselling author Nancy Naigle's A Heartfelt Christmas Promise celebrates the holidays, small-town traditions, and the generosity of love between two lost souls who find everything they ever wanted in each other.
Vanessa Larkin was supposed to be spending Christmas in Paris, France on a business trip she hoped to enjoy as a working vacation. Instead, she's been assigned to Fraser Hills, North Carolina—home of the Best Fruitcake in the USA—to convert her company's property into warehouse space and shut down Porter's, the fruitcake factory. Offering retirement packages and selling locals on new job opportunities may not spread holiday cheer, but Vanessa believes she's helping secure the town's future.
Mike Marshall's family founded Porter's. For decades, the factory served as the lifeblood of the community until his grandfather sold the business to a Chicago corporation. The sale cost the town its independence—and the Marshalls their family ties. A horse farmer, Mike was never involved with his grandfather's company, but still felt Fraser Hills lost part of its identity. And as a widower raising a teenage daughter, he's suffered enough losses in one lifetime. News of the factory's closing means losing another piece of the town's legacy.
Far from the skyscrapers and rapid pace of the city, Vanessa finds herself enjoying the easygoing rhythms of rural living. With Mike as her guide, she learns to appreciate the simple pleasures found in shared holiday festivities among friends. Fraser Hills is a town she is growing to love—and Mike is someone she is falling in love with. Now all Vanessa needs is a Christmas miracle to give her newfound friends and home a gift they'll cherish for many New Years to come.