In Dream On by Angie Hockman , After a nearly-tragic car wreck puts Cass Walker into a coma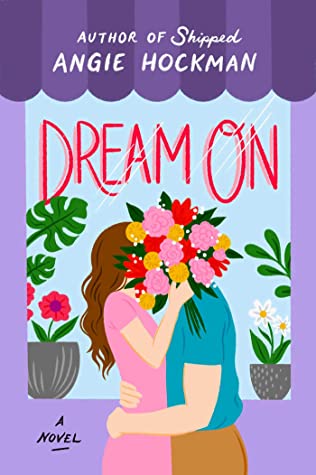 for a few days, she wakes up anxious to see her boyfriend Devin Bloom. Memories of him were all she could think of prior to waking. But everyone from her long-time best friend Brie to her mother as well as the doctors tell Cass that Devin is a figment of her imagination. Something it takes her months to believe. And even after she concedes the point, what she remembers seems so vivid and real that she still harbors the tiniest bit of hope that Devin wasn't just in her dreams.
'Can you imagine what it's like to wake up from a terrible car accident only to discover the one person you want to see is, in fact, not real? And how difficult it is when your own mind is untrustworthy, when you begin to question the very basis of who you are?'
As Cass begins working as a summer associate at a local law firm, determined to prove she's recovered and is ready to fight the good fight for the company's clients, she has a chance meeting–at a flower shop of all places–with Devin. Cass is floored that he's real. And that he wants to help her figure out the mystery of how she knows him so well. While the sparks fly and they spend more and more time together, Cass wonders if she was somehow put on this path to specifically meet Devin. Or if there's more than they could imagine still to be told in their story.
"What if your memories are a sign that we were supposed to meet? That fate somehow brought us together?" he asks softly.
"Is that really what you think?"
"I have no idea." He chuckles softly. "But I do know I like you. And I'm glad we met."
Dream On was a clever romance by Angie Hockman that will not only keep readers guessing as to why the heroine woke from her coma thinking she was dating a man who seemingly didn't exist, but it also spoke of the choices we all must make–and where they lead us in life.
'Devin is my dream man–I can't deny it. But I'm starting to wonder if maybe not all dreams are meant to come true.'
I was a big fan of Angie Hockman's debut, Shipped, and loved the offbeat but wonderfully likable characters she created. Dream On had that in common–the cast was superb, with their quirks and flaws laid out for readers in such a real way that it will feel like you truly know them. The premise and plot twists, though, were what really drove me through the pages of this particular romance.
As we followed our heroine Cass's recovery after her horrible car accident and days of being in a coma, it was a touch heartbreaking to see her realize that Devin was only in her dreams. The fact that it seemed so real and how desperately Cass clung to it made it all the more shocking when she ran into Devin in real life about a year later. Their first meeting was dramatic. And the fallout left her at odds for a while with Devin's older brother Perry. (Loved him!) But Cass and Devin tried their best to figure out how she knew so much about him if they'd never met before–all while attraction simmered between them.
Without giving too many details away, I will warn readers that this was a bit of a love triangle. There was no cheating by anyone. But it added another layer of tension to Cass's life and to the awkward situation she found herself in. The way Hockman finalized everything, though, (that epilogue!) I think readers will sigh happily and feel like everything was tied up in a lovely bow. And that the journey she went through–both in her personal life and with her career–was worth all the frustration and soul searching Cass endured.
QOTD: Have you ever woken up from a dream that seemed so real you were convinced it happened in real life?
Book Info:

Publication: July 5th 2022 | Gallery Books |
What would you do if your dream man turned out to be real?
When law student Cass Walker wakes up after surviving a car accident, she is flooded with memories of her boyfriend, Devin. The only problem? Devin doesn't exist. But everything she remembers about him feels so real, like the precise shade of his coffee-brown eyes; the texture of his favorite hand-me-down scarf; even the slightly crooked angle of his pinkie, broken after falling off a trampoline in third grade. She knows he's a figment of her imagination—friends, family, and doctors confirm it—but she still can't seem to get him out of her head.
So when she runs into the real Devin a year later in a Cleveland flower shop, she's completely shocked. Even more surprising is that Devin actually believes her story, and soon they embark on a real-life romance. With her dream man by her side and an upcoming summer job at a prestigious law firm, Cass's future seems perfect. But fate might have other plans…