In Driven to Distraction (Road to Love #1) by Lori Foster, Mary Daniels prides herself as being a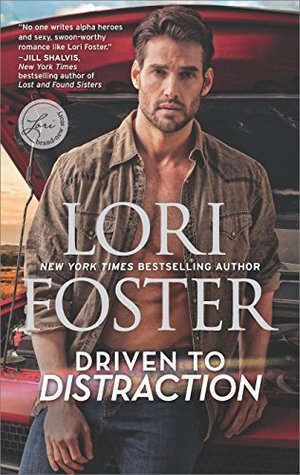 consummate professional while she obtains expensive collectibles for her wealthy boss. and rarely is she at a loss at what to say or do. But one look at her new transport driver, Brodie Crews, and Mary knows her life is about to get more interesting. And more complicated. She's never been so instantly attracted to a man in her life. And Brodie is certainly all man–from his physique to his protective attitude to his sexy charm, it's difficult to think straight around him. But Mary must have a level-head. Because not only does she need to keep the job she loves, but she also has to keep her wits about her when she and Brodie come under attack by unknown assailants.
'She'd thought herself unemotional. Detached from physical pleasure.
Oh, how Brodie had proved her wrong.'
Brodie and his brother Jack have been working diligently to expand their business, Mustang Transport, for a while now. And the contract with Therman Ritter could give them just the boost they need. A huge bonus? Working with Mary, aka Red. Brodie is drawn to the redhead and her pinup curves from their first meeting, even though she seems too straitlaced to admit to their attraction. But that's okay. Brodie is nothing if not patient. So with each assignment they embark on, he tries to prove his interest to Mary–and to build trust between them. If he can get her to open up about her past, Brodie can hopefully show her just what it feels like to have someone in her corner, caring, protecting and loving her.
"I'm trying not to ogle you." She pushed past him and went into the bathroom, closing the door firmly behind her. He even heard the lock click.
"No faith, Red," he called out, pleased that she'd admitted, more or less, to the sexual tension.
"Right now," she said through the door, "I don't trust either of us."
Instant chemistry between two very different people made Driven to Distraction one scintillating book. There was a bit of suspense, lots of fun & sexy bantering, and just enough personal drama to keep me entertained.
'Knowing she might spook if he came on too strong, Brodie leaned on her car with a relaxed vibe. Howler helped, plopping down next to her to stare up adoringly. Good dog.
Seemed he and Howler shared a similar infatuation.'
Lori Foster is definitely a go-to author when I want strong characters and a solid plot. She never disappoints. And I do believe that, much like she's mentioned herself, our hero Brodie just might be my favorite out of all of her yummy, er, I mean terrific heroes so far. Now that's saying something because Foster is well known for creating dreamy, standup, kickass male characters. Which Brodie absolutely was. And when paired up with Mary, who more than held her own in their battle of wills–and some awesome, sassy conversations? Pure romance gold.
Mary and Brodie appeared to be an opposites attract type of couple. He was laid back and oozed sexual appeal, while she was all buttoned up, both in appearance and personality. I think readers will enjoy watching Brodie coax Mary out of her shell and how she showed everyone how strong and lovely she truly was. And boy was she strong. Although Brodie had his fair share of tough moments in his life, it was Mary's past that will tear your heart out. But thanks to our hero's kindness and thoughtfulness–as well as his wonderful family's giving nature–we saw a whole new side to Mary by the end here. And I loved it.
Oh, if I'm mentioning Brodie's family, I can't leave out his goofy, lovable rescue, a behemoth of a dog, Howler! He added a lot of comedy to the scenes he appeared in and it was ridiculously cute how everyone doted on him. Especially his master, Brodie, who went full-on baby talk with him. What is it about a guy who protects and adores animals, right? Sigh. Howler was also part of the action scenes when Mary's job procuring expensive items for her boss put her and Brodie, the driver (and muscle), in harm's way. It was kind of a cool backdrop to this romance and added a few thrills as they fought off some bad guys. And we got to see things partially through the view point of the head bad guy, who at times I almost, sort of/kind of wanted to like. But not really, when it came right down to it. (lol)
You just can't go wrong picking up a romance by Lori Foster. Driven to Distraction was a great introduction into this series–and the Crews brothers. *fans face* It will be interesting to see how Jack handles things with his turn at the wheel up next.
Book Info:

Publication: Expected publication: November 20th 2018 | HQN Books | Road to Love #1
When desire gets this hot, you'd better buckle up…
Mary Daniels doesn't let anything get in the way of her job acquiring rare artifacts for her wealthy boss. But this particular obstacle—huge, hard-muscled, unashamedly masculine—is impossible to ignore. Stuck in a cramped car with Brodie Crews for hours en route to their new assignment, Mary feels her carefully crafted persona—and her trademark self-control—is slipping, and she won't allow it.
Brodie can't imagine what secret in Mary's past has left her so buttoned-up, though he'd dearly love to find out. Maybe then she'd trust him enough to explore their explosive chemistry. But he needs this job, so he'll play by her rules and bide his time…until an enemy determined to outwit them strikes and he needs to get close—in every way—to protect her. Otherwise they could lose much more than a precious collectible. They could lose it all.