Driving Her Crazy by Amy Andrews begins with Sadie Bliss an up and coming reporter and Kent Nelson wounded war photo- journalist being given an assignment to do a feature on a reclusive artist Leonard Pinto and capture some shots of the Australian outback in the bargain. Though there is some initial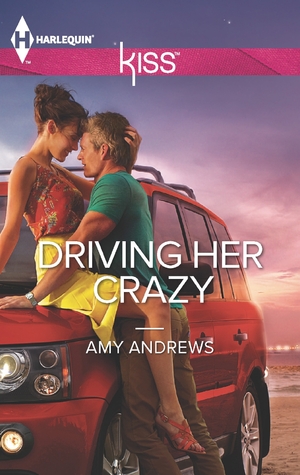 resistance to the idea, both Sadie and Kent decide to go along for the ride as each of them have a few personal demons to slay.
Kent leaned his forehead against the door. He'd been landed with a car-sick, celery-eating, arachnophobe.
Who'd have thought that would come in such a fine package.- (Andrews 58)
Take a man suffering from PTSD, a mouthy woman with body images issues on her way to interview her ex-lover pack them in tight confine spaces for a road trip across the great Australian outback and Sparks are sure to fly. So settle in, cos you know it's going to be a heck of a drive.
Sadie deliberately ticked down the minutes until two hours were up before turning to Kent and yanking on his ear bud.
'Let's make a deal,' she said.
Kent raised an eyebrow. 'Bet that was the longest two hours of your life.'
'Nope. Two minutes in a bathroom with a mutant spider was much longer.'
'Okay, so let's see if we can go another two, shall we?' he suggested as he located his swinging ear bud.
Sadie shook her head. 'We're not going to sit here all day and not talk to each other again.'
Kent flicked a glance at her, then back at the road. 'We're not?'
Sadie shook her head. 'It's ridiculous.'
Kent shrugged. 'It was working for me.'
She folded her arms. 'Have I mentioned how very annoying I can be when I set my mind to it?' -(Andrews 78)
This book was a very easy read to get into, It had a truly Aussie feel to it. I loved the whole Australian outback experience, Amy did a wonderful job describing the journey and the settings, they were vivid and easy to visualize as the story flowed through.
This book also gets bonus points for giving me an Aussie education; thanks to Amy I've learnt some  new Aussie lingo: Swag (sleeping bag), wagged (playing hooky), kip (nap or short rest). And found myself a new dessert in Lamingtons (Lamingtons are little sponge cakes coated in chocolate and grated coconut. A traditional Australian treat!) 😉
If you are a fan of road trips, wide open spaces, beautifully flawed characters and looking to add to your summer reading list I would definitely recommend Driving Her Crazy by Amy Andrews.
Book Info
Publication Date: March 19, 2013 | Series: Harlequin Kiss (Book 10)
Journalist Sadie Bliss is on a mission to prove herself as a world-class reporter.But three things stand in her way…1. Dangerously mouthwatering photographer Kent Nelson—he's far too brooding and arrogant.2. A road trip across the Outback with the above distraction—did she mention she doesn't do sleeping under the stars?3. An insatiable longing to throw her rule book out of the car window… Because what happens in the Outback stays in the Outback. Right?