West Coast Love by Tif Marcelo: Victoria and Joel unknowingly competed for the same role as host for a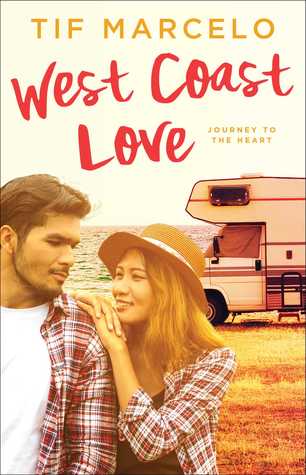 BBQ festival along the California coast. To make matters tense, they know each other from Victoria's sister's show where Joel was cameraman, as well as a hook-up in Las Vegas during callbacks.
Joel has wanted to be in front of the camera for years but behind the camera jobs paid more which allowed him to be there for his family. When Victoria gets the host positon over him, though, he can't help but be angry considering his decade of experience over hers – plus, Victoria doesn't even like BBQ.
But the attraction remains strong between Vic and Joel, and the anger soon dissipates. All that's left is hours on the road alone together and the sparks flying between the two of them.
With the several jumps in setting, I did feel a bit of a slow beginning and found it a tad difficult to get drawn in. However, I loved Joel and Victoria together. Can't say I'm a fan of the large age difference, but her sweetness with his experience created a good match.
Thankfully, not too much of the focus was on the job and competition, necessarily. The story was fully about them as a couple, finding their way around one another and their feelings. I certainly appreciated the focus on the two.
This is the third in a series, and while it can be read as a standalone reading at least the previous novel in the series would be helpful for background. However, for those who love some competing protagonists, I certainly recommend West Coast Love. It's a whole lot of sparks.

Book Info:

Publication: December 11, 2017 | Pocket Star | Journey to the Heart #3
n aspiring food journalist and a grumpy cameraman take to the California coast for the biggest foodie event of the year in this sweet third novel in Tif Marcelo's charming and romantic Journey to the Heart series.
Online food blogger Victoria Aquino has spent years doing social media for True North and Paraiso Retreats, and she's ready to take her blog and writing to the next level. But after she was catfished and suffered a heartbreak, she's clamoring for change. She auditions for and accepts a food host opportunity: covering the Labor Day holiday BBQ festivals along the California coast. For eight days, she'll travel with a producer and a camera and sound person, in a vintage—and rickety—RV, and she'll get her very first byline as a video journalist. The only catch? She can't stand BBQ.
And the cameraman also auditioned for the job.
Joel Silva is a cameraman with his own past and big dreams of his own, and when he finds out that the job he auditioned for went to Victoria—a woman he'd gotten to know covering Paraiso Retreats, and someone he later slept with—he's understandably furious and curious. Joel knows the BBQ circuit like the back of his hand, and he now has to help Victoria do her job amidst their growing attraction.
When the producer picks up on their push/pull vibe and increases the ante to feature both in front of the camera with the best host taking the next cross-country feature, the two have to decide: is their blossoming romance something that should be left to fizzle along with BBQ season? Or is it the beginning of something even more delicious?