In E for England by Elisabeth Rose, Annie is a single mother who is struggling to make ends meet after her husband left her and their two young children,leaving only a note stating his journey of self discovery. Annie starts living with her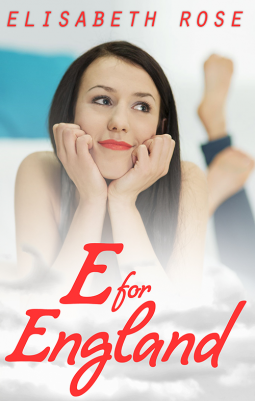 friend and coworker after losing her house and her life changes when she becomes friends with her downstairs neighbours Hugh and James.
Hugh and Annie deny their real feelings for each other and decide to limit their relationship to just being friends. Friendship seems the right place to stop when they both have different priorities in life but how long can they both deny their feelings and when Annie's husband comes back in their lives things are about to become more complicated.
E for England had a nice and cute romance with a realistic and sad touch. The characters were fairly realistic with their own set of issues. It was sad to read about Annie's struggles as a single mom and her marriage to someone who just left his wife and children for some journey of self discovery. Hugh did not want children and I understood why he was reluctant to be a father. I thought Annie and Hugh should have come clean about their feelings sooner and Annie should have reacted differently to her husband's homecoming.
The pace was a little off sometimes but overall it is a good read with nice characters and a story which leans towards reality more, which we know is not a bed of roses.
Book Info

Publisher: Escape Publishing – Harlequin Enterprises, Australia Pty Ltd (August 1, 2013)
From the author of The Ripple Effect comes a poignant novel about a mother who has given up everything for her kids, and her opportunity to take a risk on something for herself.
Annie never thought to use underwear to meet a man, but the trick works on her downstairs neighbour, Hugh. Though he's a handsome English doctor, Annie wants nothing more than friendship. Luckily, neither does Hugh.
But their friendship is shaken and their resolve tested when Annie's flatmate, sexy and voracious Leonie, meets Hugh. Annie has no claim on Hugh's nights, but can she bear to lose him to Leonie? And when Annie's husband suddenly reappears, will Hugh fight for the family he didn't know he needed?