In Eight Perfect Hours by Lia Louis, Heading home on the snowy English motorway after her letdown of a college reunion,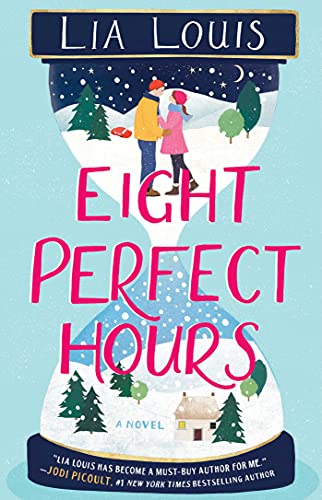 Noelle Butterby becomes one of the many drivers stuck in traffic. She knows she's no more important than any of the other dozens of motorists stranded. But with her mum left at home alone for what was supposed to be only a couple of hours, Noelle is now in a panic. And unfortunately, it seems others notice her freak out in her little car. Well, at least the handsome American who knocks on her window and offers help.
'I know I'm meant to know Sam. I have no idea why, there's no logic or reason–just that I'm meant to.'
Noelle can't thank fellow motorist Sam Atwood enough when he lets her charge her phone so she can contact her mum. And for eight hours they share stories, snacks, and feel a connection that can't really be explained. As Sam eventually drives away, Noelle hopes they'll meet again someday. Her wish comes true, several times over, as they somehow run into each other time and again. They can't help but admit that it seems they are being thrown together–and that their lives have intersected–by a force beyond them. Could all of their chance encounters be pointing to Noelle and Sam being meant to be together?
"I want you to know something," he whispers, words barely there, his nose inches from mine. "You said nobody does but–I see you, Noelle. I do."
A story that combined women's fiction and contemporary romance with a huge side of serendipity, Eight Perfect Hours was completely delightful–as was Lia Louis's wonderful writing voice.
'The roads clear, traffic speeds up, and I watch Sam until his car is a speck in the distance, and like those eight perfect hours, he is gone.'
Trigger warning: View Spoiler »Suicide, anxiety, depression, grief, love triangle-ish and cheating (by ancillary cast, not main characters). « Hide Spoiler
I'm new to Lia Louis's work so I wasn't sure what to expect. I knew the book synopsis hooked me right away…I mean, the whole idea of fate and serendipity lends itself to romance novels so well, right? Plus it was set in England–my catnip in a novel! While the story started off at a slower pace, Noelle and Sam's story gained momentum and all of the little things that happened over the years added up. I became totally absorbed in their relationship. And it became so much more than just them, actually. Louis added subplots with Noelle's mum, brother, her best friends Charlie & Theo, as well as Sam's father. I think readers will become just as invested in the secondary cast almost as much as with Sam and Noelle.
I fell pretty instantly for both Noelle and Sam. She was stuck in a rut, caring for her mum who was not doing so well physically or emotionally since a health issue a few years back. Caregiving is not easy–I know from first-hand experience. And it felt like Louis captured Noelle's feelings and struggles in a genuine way. How she felt unseen and waffled about wanting to live her life but yet knowing she had to be the strong one who stayed behind to tend to her beloved mum. Noelle did eventually get her own chance to shine. (Yay!) And again, I thought Louis didn't go over the top with it, but instead made it a believable transition.
Sam was a sweetheart of a guy who was also kind of stuck. As Noelle was with her mum–and her ex-boyfriend Ed who kept reappearing in her life–Sam had someone from his past that he felt tied to. I won't give away the details so as not to spoil what happens. But I thought it was clever of Louis to make Sam's feelings about Noelle and their serendipitous relationship come into question a time or two, which certainly kept me wondering about his intentions.
After the shocking plot twist at the end that took me by surprise and the way I cheered on each cast member, I am hooked on Lia Louis's writing. If you're looking for a quirky-sweet, modern story, Eight Perfect Hours is the book for you.
QOTD: Do you like it when secondary characters get their own small subplots? Or do you prefer it to be all about the main characters?
Book Info:

Publication: September 28th, 2021 | Atria/Emily Bestler Books |
In this romantic and heartwarming novel, two strangers meet in chance circumstances during a blizzard and spend one perfect evening together, thinking they'll never see each other again. But fate seems to have different plans. From the acclaimed author of the "swoon-worthy…rom-com" (The Washington Post) Dear Emmie Blue.
On a snowy evening in March, thirty-something Noelle Butterby is on her way back from an event at her old college when disaster strikes. With a blizzard closing off roads, she finds herself stranded, alone in her car, without food, drink, or a working charger for her phone.
All seems lost until Sam Attwood, a handsome American stranger also trapped in a nearby car, knocks on her window and offers assistance. What follows is eight perfect hours together, until morning arrives and the roads finally clear. The two strangers part, positive they'll never see each other again but fate, it seems, has a different plan. As the two keep serendipitously bumping into one another, they begin to realize that perhaps there truly is no such thing as coincidence.
With plenty of charming twists and turns and Lia Louis's "bold, standout voice" (Gillian McAllister, author of The Good Sister), Eight Perfect Hours is a gorgeously crafted novel that will make you believe in the power of fate.