In Ellie and the Harpmaker by Hazel Prior, Dan Hollis is known as the Exmoor Harpmaker as he spends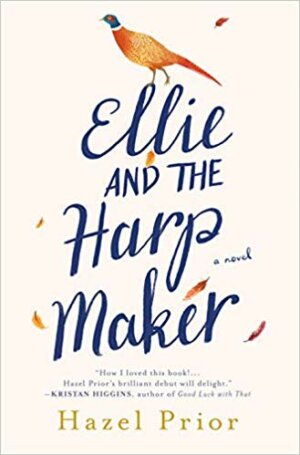 his days crafting the finest, most wonderful sounding harps to be found in England. His work and exploring the untamed countryside takes up most of his time, which is fine by him. It's when a lovely woman named Ellie Jacobs wanders into his barn that Dan's life changes considerably, one event at a time. The collision and subsequent tangling of their lives has moments both good and bad. And it's not until he is faced with possibly not seeing Ellie again that Dan understands just how integral a part in his life she has become.
'At times I am sorry that I ever gave her the harp because it seems to have led to so much pain, but at other times I think it is the balm that heals the pain.'
As a housewife with no children, Ellie has some free time on her hands, most of which she spends working on poetry or walking the countryside. She has been toying around with the idea of a list of things to do before she turns forty, which admittedly is a few years off. One such idea is learning to play a musical instrument. So when Ellie unexpectedly meets Dan and is instantly smitten with the gorgeous harps he creates, it seems like fate has intervened. But she didn't realize that forging a new friendship with the craftsman would have a ripple effect on her life in ways that will become more apparent as each day progresses. It leaves Ellie rethinking her dreams, her future, and where her heart truly lies in the grand scheme of things.
'Music brings out such strong emotions. It makes us feel things we shouldn't feel.'
Along similar lines as The Don Tillman trilogy and Eleanor Oliphant is Completely Fine, Ellie and the Harpmaker was a moody, offbeat work of fiction that took a few interesting turns and which had a wonderfully poetic flow to the writing.
'I've made an astonishing discovery: I can make music. It's like a rich seam of gold inside myself that I never knew was there before.'
Any book that highlights the beauty of music is something that piques my interest. And not only did our hero, Dan, craft ethereal harps, but our heroine, Ellie, was keen to learn how to play them. I really thought Hazel Prior's prose was beautiful, particularly when describing Dan's love for his harps and the music they generated. He was a unique character, who seemed to be either on the spectrum or at least having severe social anxiety. I honestly loved Dan. He was kind, sweet, wicked talented, and charming in his own clueless way. He was the kind of person who said what he meant, and meant what he said, making him basically the wisest of all the people we met in this book.
Ellie was kind of a catch-22 character for me. In some ways I loved that she was rather soft-spoken and a bit timid/meek, but when it came to how some of the people in her life treated her, it made me want her to toughen up and realize her own self-worth. Ellie was also naive when it came to her expectations from life as well as family and friends. That led to some difficult moments, especially in the latter half of the book, taking the story in a few directions that I didn't completely see coming. I did enjoy that Ellie's thoughts on how music enhanced her life, bringing emotions out that she never expected to feel, became more telling as her life changed over time. And while the ending was rather abrupt–though it did make me smile–I thought the place where it stopped showed Dan and Ellie each at the point in their lives where they were meant to be.
Ellie and the Harpmaker was a solid introduction into Hazel Prior's work which was brimming over with the wild beauty of the English countryside–including a pet pheasant!!–and the many wonderful reasons why music is a conduit of human emotions.
Book Info:
Michele H| 3.5 Stars | Nope! | No |
Publication: Published August 6th 2019 | by Berkley |
In the rolling hills of beautiful Exmoor, there's a barn. And in that barn, you'll find Dan. He's a maker of exquisite harps – but not a great maker of conversation. He's content in his own company, quietly working and away from social situations that he doesn't always get right.
But one day, a cherry-socked woman stumbles across his barn and the conversation flows a little more easily than usual. She says her name's Ellie, a housewife, alone, out on her daily walk and, though she doesn't say this, she looks sad. He wants to make her feel better, so he gives her one of his harps, made of cherry wood.
And before they know it, this simple act of kindness puts them on the path to friendship, big secrets, pet pheasants and, most importantly, true love.