The Day He Came Back by Penelope Ward: Raven grew up with just her mom. They may not have had much, but they have always been close.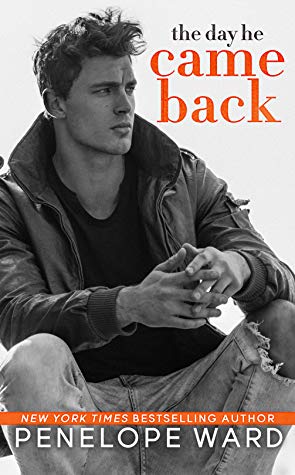 Raven is independent, smart, hard-working, and feisty as a teen. The one risk she took cost her heart in the summer that changed her life. As an adult, she dedicates her life to her patients as a nurse. She's loyal, generous, and loving.
How many times in life do you have a chance to undo your biggest regret?
Gavin grew up privileged and he avoided home as much as he could. He's smart, sexy, charming, and prefers London to Palm Beach. He's a bit of a rebel as he doesn't want to follow the path set out for him and dating only the girls approved by his snobby and overbearing mom. As an adult, he finds his passion and still avoids the family mansion when he can.
Gavin is immediately intrigued by the sassy Raven. She's unlike the girls and young women he's dated and hung out with in high school and college. Raven is surprised by how normal and down to earth Gavin is, especially compared to his mom and brother. She's charmed despite their differences and they have a hard time staying away from each other.
"You're so bad."
"I think you like that about me, though."
"What makes you say that?"
"Because you're still here. You could've run out of the car, but you don't want to leave. I can feel it. You're scared, but you don't want to go."
They have one summer that ends in heartbreak and then have no contact until Gavin returns home without warning. Both are surprised and unprepared for their first meeting after a decade apart. Their connection and chemistry are still there, but they and their circumstances have changed over the years. Seeing each other again gives them the chance to get finally have closure and everyone has a strong opinion on what they should do next.
"You'll be fine. I promise."
"This is officially the craziest thing I've ever done."
"Well, then, I'm glad to have a part in it."
The Day He Came Back is compelling, engaging, heartwarming, and heartbreaking. Penelope Ward provided romance, friendship, family, drama, conflict, banter, and heat. Ms. Ward developed a complex cast of characters, including their friends and families. Fans of Vi Keeland, Christina Lauren, and Melanie Harlow will love The Day He Came Back.
Book Info:

Publication: Published August 17th 2019 | Penelope Ward Books, Inc. |
From New York Times bestselling author Penelope Ward, comes a new standalone novel.
It was the summer of my life.
I'd met the guy of my dreams.
Unfortunately, he was the son of my uppity employer—and very much off-limits.
But Gavin was a rebel. He knew his mother would disown him if she found out about us; in his eyes, we just had to be careful.
He never treated me as his mother did—like hired help.
Instead, Gavin put me on a pedestal and loved me harder than I'd ever been loved in my life.
What a summer it was.
Until it all ended—badly.
I was never supposed to see Gavin again.
That didn't stop me from thinking about him every day for ten years.
I knew little about his life now, just that he was an entrepreneur living an ocean away.
When a twist of fate had me working again in the very place our love affair started a decade earlier, I knew it was only a matter of time before I might see him again.
But I wasn't prepared.
What if he hated me?
What if he loved someone else now?
I wasn't prepared for all the unknowns.
And most of all, I wasn't prepared for today to be the day he came back.