His Forbidden Pregnant Princess by Maisey Yates is, as the title implies, a royal romance with a forbidden love affair theme. King Luca of San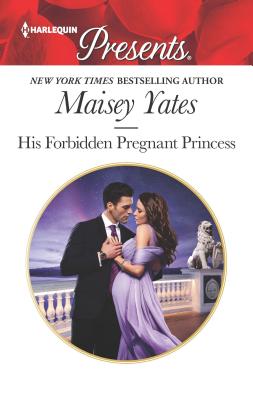 Gennaro has been tasked by his late father to provide for his stepsister by marriage (his father married her mother). This means arranging a suitable marriage for her. Never mind the fact that he's lusted after her most inappropriately since she came of age.
For Sophia, secretly in love with her older stepbrother, the thought of marrying someone else fills her with dread. But she knows that a relationship with Luca would be another royal scandal that they can't afford. Even though they're both in their twenties and not biologically related, the rumours would swirl about inappropriate behaviour. But things take a sudden twist when at a ball arranged by Luca, they succumb to their attraction. And when Sophia ends up pregnant, the fates have clearly decided that the two of them belong together. Can Sophia convince Luca to follow his heart and look for a happy ever after with her?
This is a sexy and enjoyable royal romance, with unrequited lust and love taking center stage. The reasons for them not to be together are sound though not expressly forbidden – it's more the scandal of the thing that has made them keep each other at arms length. When Sophia winds up pregnant, Luca is not going to marry her off to someone else to raise his child, so he makes the quick decision to spirit her away and marry her himself. Much of the story is them finally opening up to each other about their feelings, about past secrets and hurts, and getting to the point where they can really have a future together. There's a sweet epilogue too that makes their new family complete. As always Maisey Yates delivers strong character portrayals that make you root for their happy ending. If you're a fan of royal romances with Cinderella type themes, this will be a nice addition to your collection.
Book Info:

Publication: Aug 20, 2019 | Harlequin Presents |
The king's irresistible seduction…
…leads to an inescapable royal consequence!
As King Luca of San Gennaro prepares to take the throne, the last thing he needs is a scandal. Especially one of his own making! But his plan to select a husband for his stepsister, Sophia, backfires wildly when their forbidden desire explodes passionately into life! However much they long for each other, it must never happen again. Until Luca discovers Sophia is pregnant with his heir…