In Elsa's Stand (Outback Brides #3) by Cathryn Hein, heading home to Wirralong is hard for Jack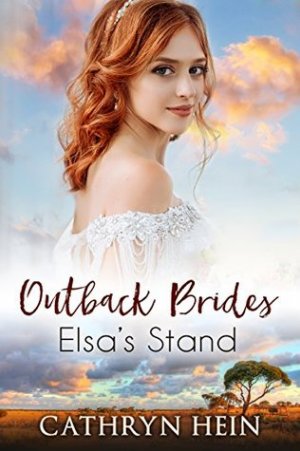 Hargreaves, but after the sudden death of his mother it's not like he can avoid going home. Determined to grieve his mother and settle her affairs before heading out of town again, he never imagined he'd find a reason to stay until he meets Elsa O'Donoghue. Will Elsa be able to convince Jack to stay or will he break Elsa's heart because happy ever after isn't in the cards for him?
"You still haven't told me why Elsa?"
"I was named after Isla Lund, Ingrid Bergman's character in Casablanca. And it's Norwegian rather than German." Jack blinked. "You don't know it?"
"Know of it. Never seen it."
"Never seen Casablanca? Oh, my mum would love you. You're practically a virgin."
This was such an entertaining read, as the heroine loves a good challenge and the hero is the biggest challenge of all. And right from the beginning, this story drew me, as the hero has such an interesting career as an opal miner. However, it was from the moment the hero and heroine come face-to-face for the first time where this story really takes off, as he makes quite the first impression with Elsa and had me alternating between smiling or laughing because a man needs to make an effort to be presentable and what a better way to do it than by the way Jack does it.
As for the dialogue, it was intense due to the main characters back stories, especially that of the hero, as he's not very well liked because of who his father is and many of the Wirralong townspeople believe the old adage 'like father like son'. However, I liked how Jack proved everyone wrong. Furthermore, the heroine was kind, caring, resilient, courageous and I liked how determined she was to win over the hero because he needs someone on his side. I also liked how she wasn't afraid to stand up for Jack, even if it could harm her business. Then again, she believes no one has the right to judge someone because of who their parents are. While the hero, I could understand why coming home to Wirralong is hard and I couldn't help but sympathize with him. How could people judge him like they do just because of who his father is and the wrongs the man has caused? Yet, in saying that, I liked that he would do anything to protect the heroine from people's judgment, especially when she's so determined to defend him. What will he do to ensure Elsa's business isn't harmed by their association?
"This place has never been kind to me. Or Mum. Finding you…" It was Jack's turn to shake his head. "It was all too good to be true."
"And you didn't think it could last."
"Not after the shooting, no."
Elsa mulled on that for a moment. "What changed?"
"I realised it didn't matter what anyone else thought of me, only what you did. And that I was being a coward."
Overall, Ms. Hein has delivered a really good read in this book that made me smile and laugh because of the heroine's determination to show the hero that there are good people in Wirralong; the chemistry between this couple was strong and kept getting stronger every time these two interacted; the romance was delightful and had me hoping for the best for these two, as Jack's unsure whether he'll stay; and the ending had me loving the hero's determination to win back the heroine after their relationship goes awry. However, it was the epilogue that wrapped this story up nicely, as Jack and Elsa are so happy together and Jack finally makes a good discovery; a discovery his mother would be so proud of. I would recommend Elsa's Stand by Cathryn Hein, if you enjoy the opposites attract trope, the friends to lovers trope or books by authors Victoria Purman, Kelly Hunter, Fiona McArthur and Annie Seaton.
Book Info:

Publication: July 9th, 2018 | Tule Publishing | Outback Brides #3
When the sudden death of his mother forces outback opal miner Jack Hargreaves home to Wirralong, his plan is simple: mourn his mother, sort out the family farm, and get the hell out of the town that has always hated him. But Elsa O'Donoghue, the beautiful hairdresser with a big heart and even brighter smile, has other plans.
From the moment Jack strides into her salon and helps himself to her clippers, Elsa is in lust. He might be a poster boy for the strong silent type, but she senses there's a good man behind that stoic facade. With her business taking off, Elsa is finally ready for a relationship and Jack is just her kind of man. Not to mention, she's never said no to a challenge.
Worried their association will harm Elsa's business, Jack tries to avoid her, but Elsa is irresistible. Soon, she has him believing and hoping for a future with her in Wirralong, but another family tragedy shatters Jack's fragile dream. Jack knows he must leave Elsa to protect her, no matter the cost to himself.