Scotland or Bust by Kira Archer is a fun vacation themed romance, and part of the author's Winning the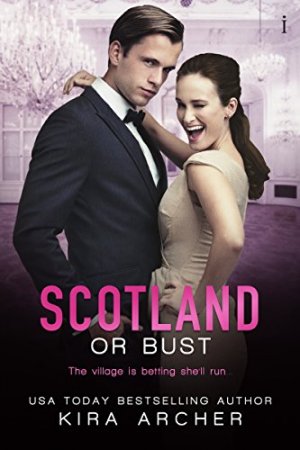 Billionaire series.
Nicole Franklin has always wanted to go to Europe, and since she's single again, now is the perfect time. With a one way ticket and plans to find a temp job and figure things out as she goes along, she lucks out on the plane when she meets wealthy English businessman, Harrison Troy, owner of a popular travel agency.
Harrison (Harry to his family), has just lost the services of his assistant and is in dire need of someone to help him with his family's plans to market their English and Scottish homes to the Outlander fans looking to recreate the book and tv series experience. When his seatmate Nicole tells him about her plans, he offers her the position of his assistant on the spot, which she gladly accepts.
Settling in at his family's castle, Nicole is welcomed by them, though a misunderstanding means Harrison's eccentric and sometimes memory challenged grandmother thinks they are engaged. Not wanting to ruin her good spirits, Nicole and Harrison agree to the charade while getting things ready for the influx of tourists. Nicole is determined not to fall for the sometimes stuffy guy with a good heart – she needs to go it on her own for a while before getting involved in another relationship. But when their feelings start to change, will Nicole move on or give her and Harrison a chance?
This is a fun and lighthearted romantic comedy. It's an ode to Outlander (the time travel historical fiction series by Diana Gabaldon) of which I happen to be a big fan. Harrison's not overly keen on the books, or his family's plans to turn their homes into a re-enactment of sites for the story (including a wedding finale) but his father insists on it. It's a way to help pay the bills of maintaining the stately homes and a compromise to keep his family's pride intact, even if it means Harrison has to wear a kilt.
Harrison's family is a big part of the story, including his grandmother who is quite the character. Nicole gets along well with them, and part of Harrison's attraction to her is how well she treats them, especially his grandmother. Some of Harrison's friends (from earlier books in the series) come up for a trial run of the tour experience and add to the fun. The men see that Harrison has a thing for Nicole but he insists on keeping things professional – until that no longer works. This is a slow burn romance but leads to some sexy scenes as Harrison and Nicole explore their attraction to each other. Eventually they have to deal with the real feelings that have cropped up between them and we get a lovely happy ending and epilogue. It's an entertaining read.

Book Info:

Publication: June 11, 2018 | Entangled Publishing | Winning the Billionaire
After dumping her boyfriend, Nicole Franklin impulsively jumps on a plane and heads to Europe. Sure, money and a job would have been nice to line up first. Even a visa, for that matter. So now she has to play tour guide at an Outlander experience for the most obnoxious man on the planet. Until she stumbles into the wrong bed in the middle of the night and wakes up in Harrison's arms. Now his family thinks they're engaged, and the entire village is betting on how long before she'll be running for the hills.
Harrison Troy has a reputation in the town for burning through assistants. And the bubbly new one he's just hired is likely no different. But his family quickly has them "engaged." He should be upset, but she's the perfect buffer for his interfering family. She says she doesn't need another man in her life–even if he comes with a castle–and that's fine with him. So why can't he stop thinking about the woman who is charming everyone in the town, and maybe even him?